Neutral Kinefis Massage Kit: Neutral Kinefis Massage Cream + Neutral Kinefis Massage Oil: Get a nice massage sensation
before 19,45€
price 12,95€


Offer -33%

[Including VAT.]
Product in stock. Immediate shipping
* Shipping 11,95€, free from 300€
Description Neutral Kinefis Massage Kit: Neutral Kinefis Massage Cream + Neutral Kinefis Massage Oil: Get a nice massage sensation
MASSAGE

PACK
Neutral

Kinefis

Kinefis Neutral Massage Pack is ideal to apply in any type of massage and to be used in all types of skins. Thanks to their formulations based on natural products, they have a great capacity for sliding and moisturizing. It increases the therapeutic effects of massage with the Neutral Kinefis Pack!
Pack consisting of:
- 1 Bottle of Kinefis Neutral Massage Cream of 1 Liter
- 1 bottle of Neutral Kinefis Massage Oil 500 ml
Kinefis Neutral Massage Cream 1 Liter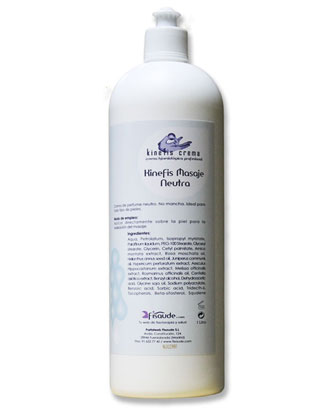 Kinefis Neutra: Ideal Cream for Long-lasting Massages
Kinefis massage cream with neutral , non- staining perfume , designed to be used on all skin types . Kinefis Neutral massage is designed for application in long-lasting massages avoiding erosion and discomfort both in the hands of the person applying the massage and the person receiving the treatment.
The line of Cream Kinefis removes kinefis cream neutral massage to meet the expectations of therapists who decide to always use a neutral cream .
Kinefis Neutral Massage Oil in a 500 ml bottle with dispenser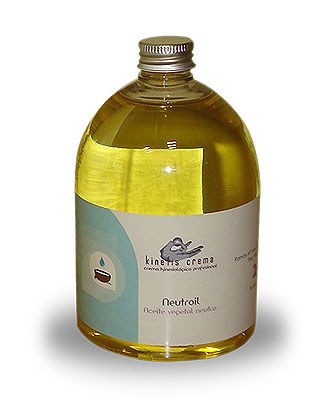 Neutral oil Kinefis ideal for massages
Get great sliding ability while taking care of your skin and the patient's skin .
Strengths
- Ideal for all types of skins . It hydrates and softens at the same time that is ideal to get a nice massage sensation.
- Formulated based on 100% natural vegetable oil blend .
- Without perfume
- Ideal for lovers of neutral massage products.