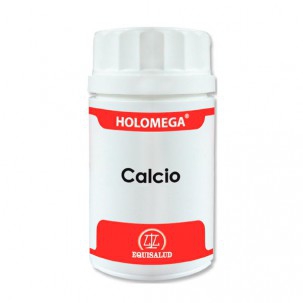 Holomega Calcium: Health to the bones and joints (Ref. 843600302844)
before 28,00€
price

23,00€

[Including VAT.]
Shipping in 48-72 hours approx.
Shipping 11,95€, free from 300€
Description Holomega Calcium: Health to the bones and joints (Ref. 843600302844)
Corrective measures are important to achieve good calcium absorption rather than trying to up the dose in excess. Four capsules per day of this product provide 624 mg of highly bioavailable calcium. To achieve good absorption in the intestine need to have a higher proportion of beneficial bacterial flora in the intestine and the intestinal wall is in good condition. Excessive intake of bran, whole wheat or spinach can hinder calcium absorption through the intestinal wall, which does not mean you should avoid eating these foods but in moderation. Vitamin D increases the intestinal absorption of calcium. Good food sources of vitamin D are egg white and oily fish like salmon, sardines and tuna. But the major source of this vitamin is definitely the regular sunlight exposure.
To improve the operation of the pump that moves the calcium through the membranes need to increase the potassium intake. Especially potassium-rich foods are fruits, green leafy vegetables, potatoes, cauliflower, beans, celery, tomatoes, cucumbers and eggplant. It will also be necessary to reduce the salt in the diet and avoid salty foods like peanuts, chips, olives, etc. It has been found that some factor present in tea, coffee, wine and chocolate prevents the proper functioning of ion transport through the cell membrane inducing the accumulation of sodium and calcium. Deficiencies of magnesium and zinc further reduce the activity of calcium transport mechanism.
Content:
50 capsules of 1180 mg.
How to use:
Take 2-3 capsules spread during the day, or on the advice of a specialist.