Access control Thermo Access Desk with body temperature detector: Compact size and reduced weight (Ref. G6023)
price 5.354,25€
[Including VAT]
Shipping in 5-7 days approx.
* The shipping costs are calculated in the shopping basket
Warranty is 2 years
Description Access control Thermo Access Desk with body temperature detector: Compact size and reduced weight (Ref. G6023)
Thermo Access is a scanner equipped with an accurate thermal sensor , capable of instantly detecting the user's body temperature. It is intuitive and easy to use: the camera will frame the user's face, which will appear on the screen and will indicate in a short time (the measurement is done in five seconds) if the user has a correct body temperature.
This device has been configured in accordance with the '' protocol for regulating the measures for contrast and containment of the spread of the covid10 virus in the workplace - March 14, 2020 ''.
The device has a fixed temperature (37.5º - adjustable). And after the five seconds it takes to perform the temperature measurement, the screen will show whether or not it is possible to enter the premises.
The DESK model is designed to be placed on tables and counters. It is equipped with a multifunctional monitor and a single thermal scanner. Thanks to its compact size and low weight , it is ideal for small environments and / or for those activities that have outdoor spaces that want to monitor; at the end of the day, the device can be easily pushed back into the premises.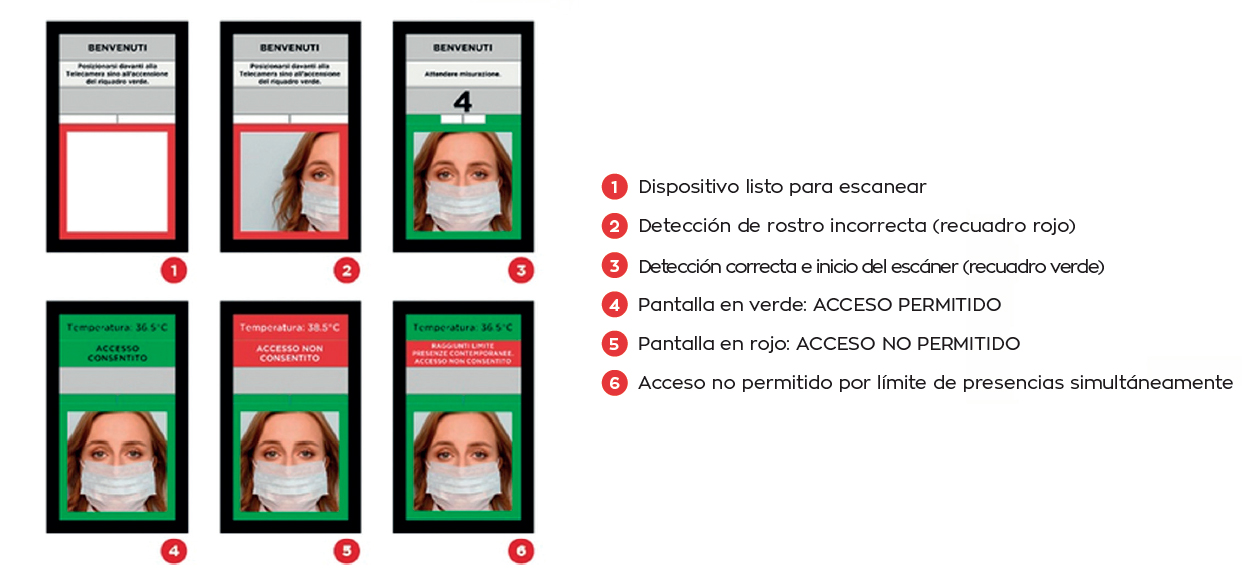 Technical characteristics:
- Thermal scanner with camera

- 10 "multifunction monitor

- Acoustic and light alarm (on / off)

- 4G connection with sending alerts and remote assistance

- Access / steps management system

- Temperature detection: 5 "

- IP 21 degree of protection

- Galvanized steel internal structure with closing sheets and powder varnish

- Outdoor use with direct sunlight is not recommended (temperature> 60 ºC)

- Size: 410x510x1000 mm