Diafactory: First rapid test in the detection of Dermatophyte Fungi (10 test strips) (Ref. JNC-DE001)
clients ratings:

4 of 5 (1 reviews)
before 169,40€
price 148,00€


Offer -13%

[Including VAT]
Product with variable stock. Shipping according to availability.
* Shipping 11,95€, free from 300€
Description Diafactory: First rapid test in the detection of Dermatophyte Fungi (10 test strips) (Ref. JNC-DE001)
Are you a podiatrist? Are you thinking of putting your own query?
Then always offer the best to your customers. With DIAFACTORY: No more waiting and disorders for your patient. Instant diagnosis and instant treatment of Tinea Unguium
- New in Spain, a success among your patients.
- First rapid detection test for dermatophyte fungi
- Results in minutes with 99% accuracy without waiting for the patient

Principle of the Method
Diafactory Tinea Unguium is a rapid immunochromatographic assay , designed for the search for Dermatophyte antigens in nail samples , and uses mouse monoclonal antibodies against Dermatophytes immobilized on a nitrocellulose membrane. These antibodies were developed to react expressly with seven dermatophytes.
Diafactory Tinea Unguium has a high detection capacity and provides a reliable, convenient and fast method for the detection of Tinea Unguium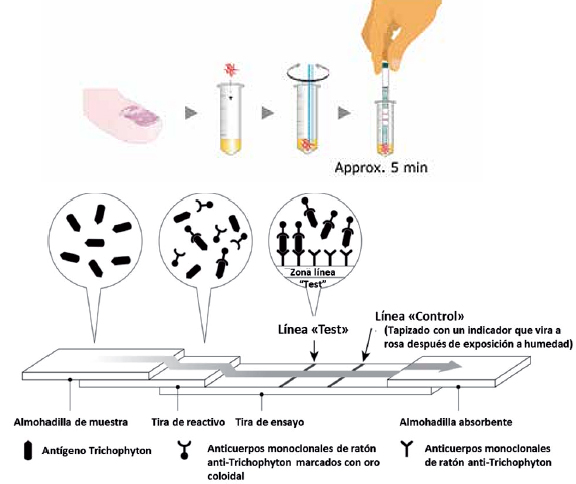 99% accurate results in less than 5 minutes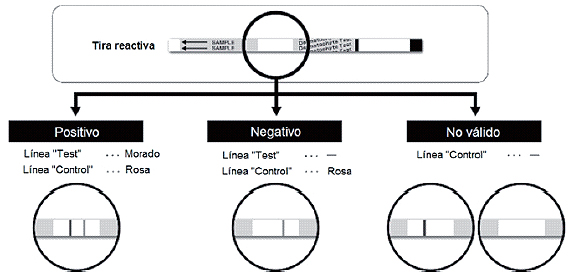 Tinea Unguium on my Nails?
Tinea Unguium is an infection of the nail plate caused by Dermatophyte fungi . The prevalence in advanced countries is calculated as a minimum in 10% of the population . The incidence increases in all countries with the age of the population and therefore an increase in the number of cases is predicted in association with the future aging of society.
Patients with Tinea Unguium are a potential risk in transmitting the infection to themselves, as well as to other people. Tinea unguium in particular, is considered as a prophet of diabetic foot syndrome . Thus, Tinea Unguium does not only cause problems with the appearance of a nail, but can also affect the quality of life of patients. Therefore, it should be actively treated as much as possible.
Since many other diseases have symptoms similar to Tinea Unguium , differentiation is not easy , and a definitive diagnosis by mycological examination is necessary before the start of a treatment .
Dermatophytes are classified into three genera: Trichophyton (T), Microsporum (M) and Epidermophyton (E). T. rubrum represents is the main cause of Tinea Unguium, followed by T. mentagrophytes.
Diagnostic tests for Tinea Unguium include direct microscopy with potassium hydroxide (KOH), fungal culture, PAS staining (periodic acid-Schiff), fluorescent staining, confocal microscopy and molecular biological methods such as polymerase chain reaction (PCR).
Although direct microscopy with KOH and fungal culture have been the "Gold Standard" for the diagnosis of Tinea Unguium, these tests are sometimes a burden in clinical adjustment, because direct microscopy requires an important experience for the identification of the elements fungal, and dissolution of nail samples require a considerable amount of time. The culture takes between 2 and 3 weeks to obtain results, but the detection rate is lower than that of direct microscopy. Therefore, it can be an important competitive advantage, the existence of an easy and fast test to diagnose Tinea Unguium with accuracy.
Diafactory Kit Composition
10 x Test Strips
1 x Extraction Solution
10 x test tubes
10 x Stirring rods
1 x Tube holder
1 x Employment Manual
DIPTICO WITH MORE INFORMATION ABOUT DIAFACTORY