Diathermy Diacare 5000: The effectiveness of tecartherapy at the best price (new version) (Ref. G3488)
clients ratings:

4.3 of 5 (7 reviews)
Ask for budget
Product in stock. Immediate shipping
* The shipping costs are calculated in the shopping basket
Warranty is 2 years
Description
Promotion
Description Diathermy Diacare 5000: The effectiveness of tecartherapy at the best price (new version) (Ref. G3488)
The Diacare 5000 is the portable device of the Globus Tecartherapy line and now offers new functions. It has a larger frequency range and 14 established protocols . Its strong points include: Automatic, pulsed, athermal and transdermal treatments, automatic frequency scanner and handpiece calibration
The Diacare 5000 diathermy equipment includes all the quality of Globus brand tecartherapy . It is a device of compact size and light weight in order to guarantee maximum portability , maintaining the same efficiency and professionalism. A team that works in capacitive and resistive mode for the treatment of acute and chronic disorders of the muscular and osteoarticular system .
The Diacare 5000 produces high-frequency currents that heal your body, using its own internal energies and stimulating the natural regeneration mechanisms of tissues and muscles. In addition, the book 'Capacitive and Resistive Diathermy. Excellence in electrotherapy' totally free.
What is Tecartherapy?
Tecar Therapy is a form of endogenous thermotherapy that stimulates the body's natural repair processes, accelerating the recovery time of tissues during the treatment of traumas and pathologies of the musculoskeletal system.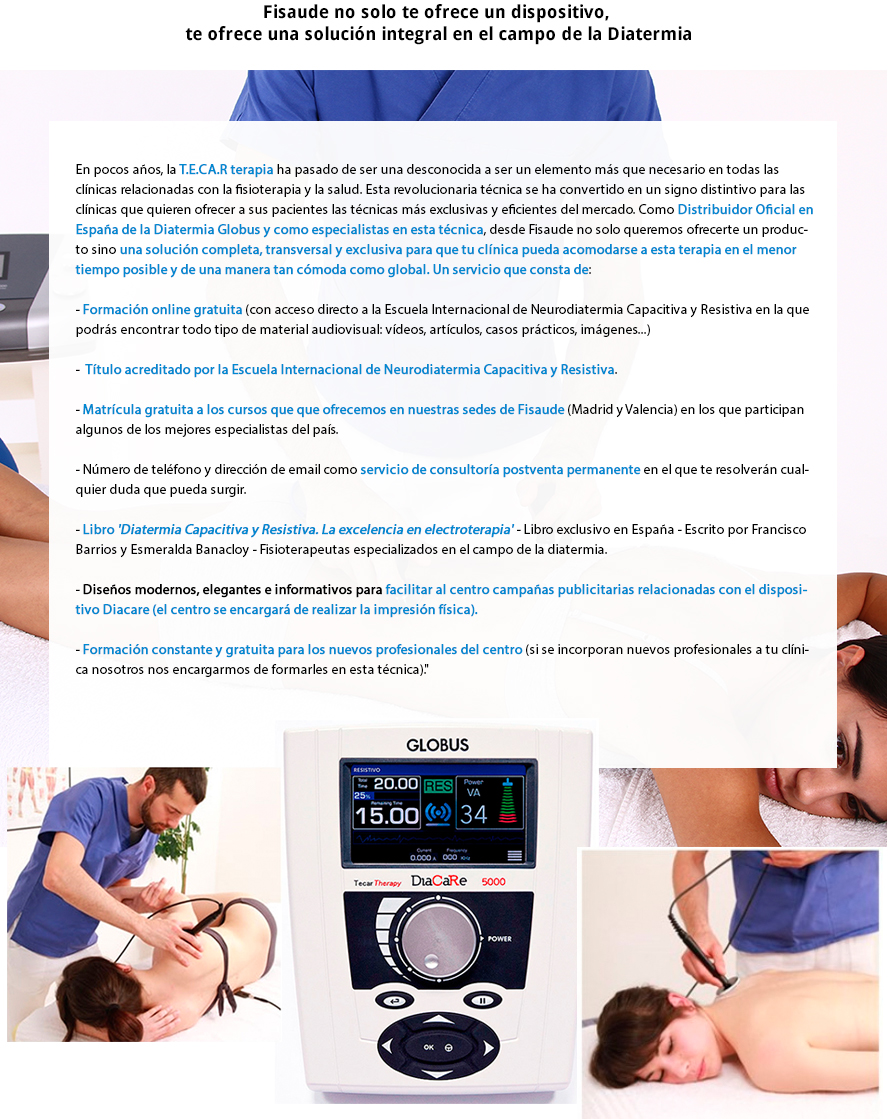 ​
Strengths:
- New graphical interface: to navigate the color touch screen intuitively
- Predefined programs: the new Diacare 5000 offers a list of predefined programs to treat the most common disorders of the musculoskeletal system
- New programs: possibility to create new programs and save them in a special memory
- Automatic treatment: allows the use of carbon electrodes that are attached to the patient. In this way, the operator will have the possibility of intervening by integrating the material with manual techniques.
- Multifrequency: Diacare 5000 can use different working frequencies. The possibility of having more frequencies allows the operator to intervene in a timely manner on various tissues, also at different depths
- Automatic exploration of the frequencies: the program allows, within the treatment itself, to uniformly transmit the energy first in the most superficial tissues, then in the intermediate ones and finally in the deepest ones
- Transdermal delivery: the program facilitates the absorption of the active ingredient of a drug or cream
- Athermal treatments: the athermal program, thanks to controlled pulsed emission, is modulated to create tissue biostimulation without generating heat.
- Pulsed treatment: possibility of using programs with pulsed emission of different ratio (duty cycle). This allows the energy transferred to the tissues to be kept high while maintaining good temperature control.
Technical characteristics:
- Screen: 4.3″ color screen
- Power: 200W ±10%P
- Outputs: 2
- Emission frequency: 400kHz, 470kHz, 700kHz, 1000kHz ± 10%
- Treatment mode: Capacitive and resistive
- Capacitive electrodes: 3 sizes (Ø, 30, 50, 70 mm)
- Resistive electrodes: 3 sizes (Ø (30, 50, 70 mm)
- Power supply: AC 100-240V, 50-60Hz, 1.8A
- Size: 120 x 220 x 60mm
- Weight: gr 1100
Basic endowment:
- 1 DIACARE 5000 tecartherapy unit
- 1 counter electrode (plate)
- 1 resistive monopolar handpiece with 3 heads (Ø 30, 50, 70 mm)
- 1 capacitive monopolar handpiece with 3 heads Ø (30, 50, 70 mm)
- 1 bipolar handpiece Ø (50 mm) (optional)
- 1 Kit for automatic treatment (optional)
- 1 Bottle of cream 500 ml
- 1 Instruction Manual
Programs:
- Muscle trauma pain
- Tendon trauma pain
- Ankle injuries
- Low back pain
- Shoulder pain
- Cervical pain syndrome
- Muscle strains
- Joint pathologies
- knee osteoarthritis
- Whiplash
- Sciatica
- herniated disc
- Piriformis syndrome
- Post-surgical treatment of femur fractures
Accessories:
Do you want any more accessories related to Diathermy Diacare 5000? Click here to find them .
Warranty:
- This device has a 2-year warranty
- The accessories that come with the device such as cables, batteries, power adapters, heads, etc. have a 6-month warranty
- Expendable materials used for this type of device such as electrodes, conductive gel, etc. are not guaranteed.
* The guarantees will be applied as long as the device and its accessories are not damaged by misuse or negligence of the client: blows, broken displays, overvoltage, etc.
Attached files
reviews
Reviews Diathermy Diacare 5000: The effectiveness of tecartherapy at the best price (new version) (Ref. G3488)
No reviews found for this product.

loading reviews...
<<
<

1

/
>
>>

reviews

view per page
Tono en perfectas condiciones y tal y como se habló
#1 on 05/11/2021 N° Client: Francisco

Pendiente de evaluar
#2 on 13/04/2021 N° Client: Jorge

Todavía es pronto para valorarlo, pero promete bastante
#3 on 24/05/2019 N° Client: anonymous

Aun es pronto para valorarlo. No lo he comenzado a utilizar aún
#4 on 19/01/2019 N° Client: anonymous

A pesar de que no es el que pedí (lo tengo a prueba hasta que llegue el mío), está resultando como esperaba, mis expectativas están cubiertas con creces.
#5 on 24/09/2018 N° Client: anonymous

Correcto
#6 on 02/08/2018 N° Client: anonymous

Todavía estoy empezando a usar el aparato pero veo que bien aplicado puede tener muy buenos resultados.

#7 on 20/02/2016 N° Client: anonymous

Parts and accessories for this product