Disposable syringe without dead space - 1ml - 25G 1 "- Suitable for vaccination against COVID (box of 100 units)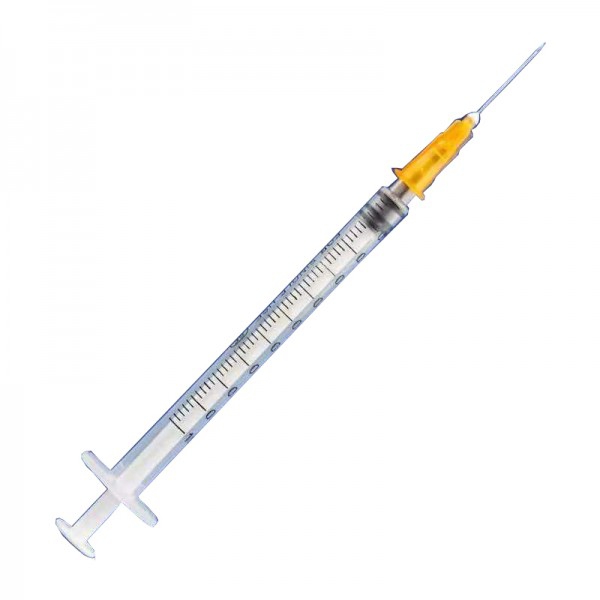 -22% off
16,95€
Including VAT
(14,01€ without VAT)
before 21,72€
Product in stock. Immediate shipping
* The shipping costs are calculated in the shopping basket
Description
Disposable syringes without dead space are those that, unlike conventional syringes, do not have a flat plunger and therefore help not to lose any of the dose to be administered.
These syringe models are especially useful in periods of mass vaccination such as the one we are currently experiencing with the crisis caused by Covid19.
This model belongs to the latest generation in safety device technology for administering intramuscular and subcutaneous injections. Thus, these syringes maintain the design of a traditional syringe but incorporate the Luer Lock system that supports high pressures and prevents any unwanted movement of the needle, providing greater advantages of safety and precision.
Technical characteristics:
- They comply with the Standard (Standard) - ISO7886-1 / GB15810
- Main structure: Barrel, plunger and push button, piston
- Scope of application : The product is used with a needle in hypodermic injection.
- Specification : 1ml-60ml
- Syringe volume meter : 1ml 25G 1 ''
- Tip : Luer slip / Luer lock
- For safe storage, the syringe must be away from high temperatures and excessive humidity (it must be less than 80%).
- Keep syringes away from corrosive products.
Utilization:
- Open the container carefully from the shell and obtain the syringe.
- Join the connection nozzle with the needle.
- Remove the protective cap from the needle.
Precautions:
- Do not use if the package is open or damaged.
- Do not use after the expiration date.
- Discard after use.
- Valid for five years.
Attached files
Reviews