Essential Oil by Patchouli Kinefis 15ml (Ref. V1410118)
clients ratings:

4 of 5 (3 reviews)
price 6,05€
[Including VAT]
Product in stock. Immediate shipping
* Shipping 11,95€, free from 300€
Description Essential Oil by Patchouli Kinefis 15ml (Ref. V1410118)
100% natural Kinefis essential oil
Main Benefits
- Patchouliposee essential oil an aphrodisiac power that helps men or women who do not know how to express their feelings, who are not interested, or who have difficulty arousing their sensual part with ease. It gives them security and connects them with their vital part, from the energy center located in the womb, stimulating the functions related to the creative forces.
Its general antiseptic properties are known and for this reason it is used in creams preparations to improve the general condition of the skin (it has rejuvenating effect) as well as to treat related conditions (ulcers, acne, cracked or simply tired skin) .
Precautions
External use. It is recommended not to use it in pregnant women. The precaution that must be taken with this oil is that it can provoke skin irritations, for which I would not recommend it in case of sensitive skins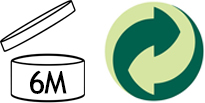 characteristics
Kinefis oils are one hundred percent natural, pure and undiluted.
Do not stop consulting!
If you are a herbolarío, parapharmacy, aesthetic, or any other center of sale of essential oils do not stop asking us the prices for wholesalers.