Instant cold pack (20 cm x 13 cm)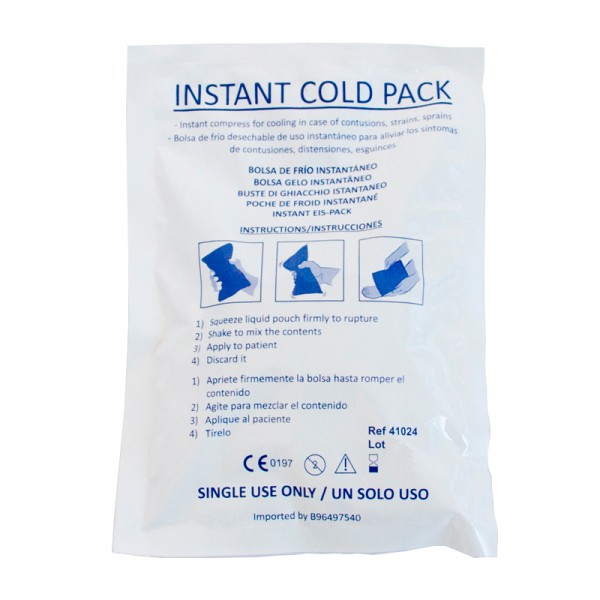 0,75€
Including VAT
(0,62€ without VAT)
Product in stock. Immediate shipping
* The shipping costs are calculated in the shopping basket
Reference: 41024
Description
The instant cold pack is ideal for all types of users as it soothes and relieves pain quickly and effectively. The bag can be used at any time since, in addition to its small size (20 cm x 13 cm), instant and soothing cold is achieved in three simple steps:
1- Tighten the bag firmly
2-Shake
3-Apply to the painful area.
The instant cold pack is especially recommended for blows, sprains, bruises, dislocations, insect bites, inflammations and sunstroke. A simple, practical and effective solution.
Technical characteristics:
- Simple and immediate use.

- The cold ranges from 0ºC in a few seconds, reaching -10ºC for 30 minutes.

- Adaptable, does not harden.

- Dry cold without dripping. Hermetically sealed bags with double heat sealing.

- Does not require pre-cooling or special storage.

- Single use.

- Indicated for any age.

- Bag weight: 200 gr

- Perfect complement to analgesics and anti-inflammatories.
Indications of use:
- Hit or squeeze the package hard to pierce the internal bag of water.
- Shake vigorously for a few seconds.
- Systematically apply a cloth or towel between the bag and the area to be treated.
- Discard after use.
- Do not apply directly on the skin.
- Do not pierce or open the bag, even after use.
- Only use the bag if it is tightly closed.
Attached files
Reviews
4,5
17 reviews

loading reviews...
Andreia
Portugal
19/08/2023
Guillermo
Spain
14/03/2023
CARLOS
Spain
09/03/2023
Filomena
Portugal
06/02/2023
anonymous
Spain
24/11/2022
anonymous
Spain
23/11/2022
anonymous
Portugal
28/12/2021
anonymous
Spain
20/10/2020
anonymous
Portugal
12/08/2020
anonymous
Spain
20/02/2020