Kinefis Ice Spray Cold Spray 400 ml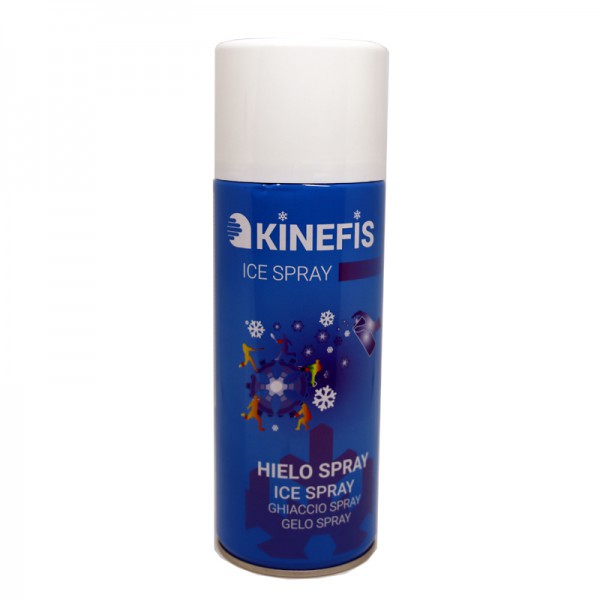 -9% off
3,60€
Including VAT
(2,98€ without VAT)
before 3,95€
Product in stock. 1448 units in stock. Immediate shipping
* The shipping costs are calculated in the shopping basket
Available options
Quantity:
1 unit
3,95€ 3,60€
Quantity:
6 units
21,95€ 20,25€
Quantity:
12 units
40,50€ 38,50€
Description
Great for pain relief! Its anesthetic effect, induced by the cooling of the bruised part, allows you to quickly return to sports activity
The Kinefis Ice Spray Cold Spray provides a sensation of ice quickly and effectively for application in inflammatory conditions .
Especially indicated for all sports activities , it is suitable for minor traumas or blows , but it is also used in the medical sectors , large areas and homes .
It is easy to use and the only thing to keep in mind is that it should be sprayed from a distance of at least 20 cm from the affected part in order to avoid skin irritations.
Dispo Ice Spray is a Class II a medical device.
Main uses:
- Indicated especially for sports activity
- Contusions
- bruises
- Sprains
- Trauma
- Hyperthermias
- swelling
- Cryotherapy and use of cold.
Presentation:
- 1 unit
- 6 units
- 12 units
Reviews
4,1
21 reviews

loading reviews...
Gabriel
Spain
22/03/2023
José María
Spain
12/02/2023
anonymous
Spain
24/11/2022
anonymous
Spain
23/11/2022
CARLOS
Spain
13/09/2022
Cristina Maria
Portugal
09/08/2022
JAVIER
Spain
27/07/2022
Blanca
Spain
12/04/2022
anonymous
Portugal
08/05/2021
anonymous
Spain
06/11/2020