Kinefis Quality two-section hydraulic stretcher: With retractable wheels, gas piston reclining backrest, highly stable structure and an unbeatable value for money
-18% off
798,00€
Including VAT
(659,50€ without VAT)
before 975,00€
Shipping in 8 days approx.
* The shipping costs are calculated in the shopping basket
Reference: CH-KQ-2
Description
The Kinefis Quality two-section hydraulic stretcher is the perfect solution for all health professionals since we are facing an extremely versatile model, which is ideal for carrying out physiotherapy, osteopathy, chiropractic and aesthetic treatments and, in addition, it lands in the market with an incomparable value for money.
Strengths:
- The Kinefis Quality model combines aesthetics and functionality like few others, since it has very careful finishes and characteristics of high-end stretchers but at a much more accessible price.
- The stretcher is raised with a two-pedal hydraulic pump. This lifting mode offers a double plus: on the one hand, it adds a great manageability value for the professional and, on the other hand, it adds a plus of comfort to the patient.
- The Kinefis Quality model offers accessories such as the facial hole and the roll holder as standard.
- The backrest is reclining (+ 80º- 20º) by means of an accessible and comfortable gas piston that ensures that the movement of the headrest is smooth and fluid.
- The Kinefis Quality model also comes equipped with four levelers.
- This stretcher is equipped with retractable wheels .
- Its structure stands out for its robustness and stability with a high density and durable PVC upholstery.
- Another differential element of the Kinefis Quality stretcher is its ability to lower down to a minimum height of 43 cm. Which makes access to the patient very comfortable. Especially important in cases where patients have mobility difficulties that make it difficult for them to access stretchers with a higher minimum height.
Technical characteristics:
- Two-section stretcher with facial hole, provided with facial plug and roll holder
- Adjustable backrest by gas spring + 80º- 20º.
- Four levelers.

- Retractable wheels (not suitable for the transfer of people)

- Rounded legs

- Upholstery: 5cm foam covered fiberboard, 30kg density, covered with fireproof, antibacterial, antifungal, waterproof, UV and weather resistant leatherette, and complies with European regulations. Skay Valencia series

- Structure: 50 x 30mm rectangular profile of cold-formed welded steel with a thickness of between 2 and 3 mm.

- Treatment: Epoxy paint baked in a 250o oven

- Approximate measurements):



- Adjustable height (43cm to 77 cm)

- Recommended maximum supported weight: 180Kg.

- Height adjustment: by means of a 2-pedal hydraulic pump.

- Complies with European safety regulations
Upholstery colors: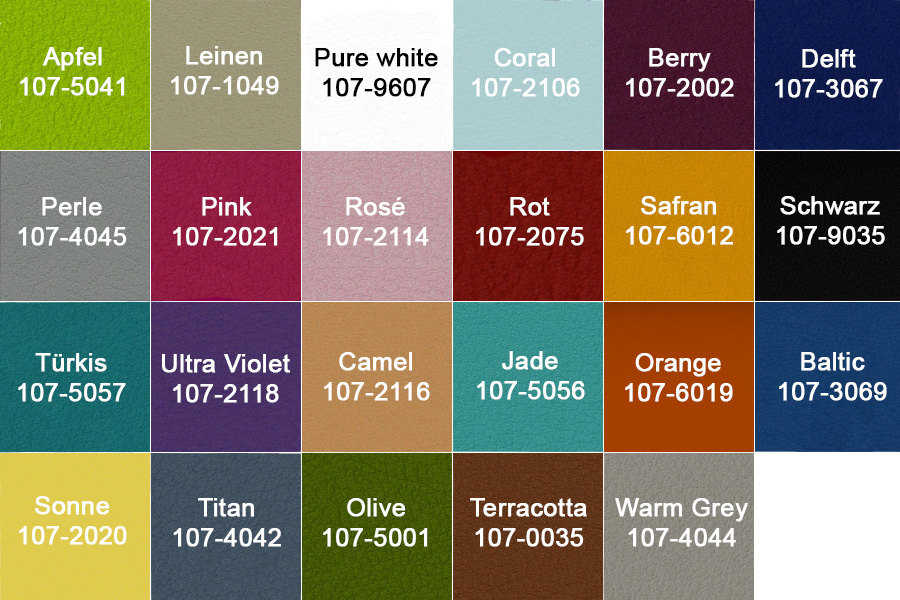 Color choice process
Choose the color in the " Comments " box in the purchase process by writing the number - name of the desired color
Warranty:
- Hydraulic motor warranty: 3 years

- Stretcher structure guarantee: 5 years
IMPORTANT!
The price includes shipping costs to the Peninsula. Following the current policy of the transport companies, the delivery will be made at the street door. If it is necessary to go up or down a floor, you should contact us to request a porter service from the transport company. This Service is an additional charge.
Attached files
Spare parts and accessories for this product
Folding and upholstered chrome arm (set of arms) Reference: CASS-BZ-3
226,27 €
Shipping in 20-30 days approx.
284,35 €
Shipping in 20-30 days approx.
Reviews
4,8
5 reviews