LAST SIZES - Compressport Care Socks Daily Life Socks - Garnet Color (Size L)
before 39,00€
price 24,95€


Offer -36%

[Including VAT]
Product in stock. 3 units in stock. Immediate shipping
* Shipping 11,95€, free from 300€
Description LAST SIZES - Compressport Care Socks Daily Life Socks - Garnet Color (Size L)
Compressport Care Socks Daily Life Socks
Size L: 45 - 49
Compressport Care Socks Socks: Ideal for traveling, working in the office or for any other prolonged sitting position.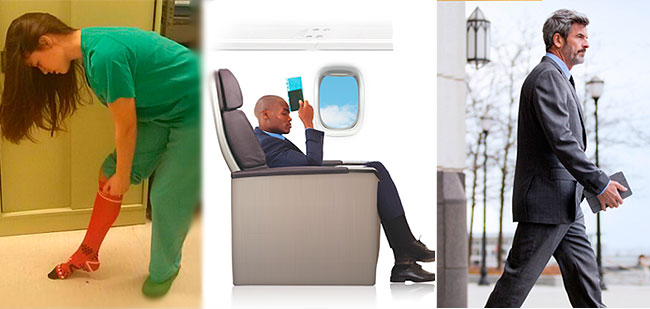 Compressport Care Socks socks will leave your legs feeling unparalleled lightness and freshness . The combination of natural fibers and Silk Merino added comfort and warmth, providing a unique feeling throughout the day.
Discover the Wellbeing and Benefits of Compressport Care Socks :
- Activation of Blood Circulation
- Multipoint massage
- Technology used by World Champions
Compressport Caresocks Technology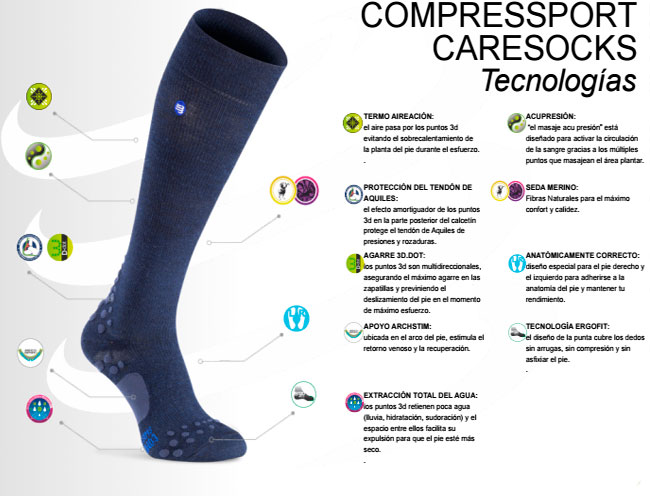 - Thermo Aeration : the air passes through the 3d points avoiding overheating of the sole of the foot during the effort.
- Protection of the Achilles Tendon : the damping effect of the 3d points on the back of the sock protects the Achilles tendon from pressure and chafing.
- 3D Dot grip : the 3d points are multidirectional, ensuring maximum grip on the shoes and preventing slippage of the foot at the time of maximum effort.
- Archstim support: located in the arch of the foot, it stimulates venous return and recovery.
- Total Water Extraction : the 3d points retain little water (rain, hydration, sweating) and the space between them facilitates their expulsion so that the foot is drier.
- Acupressure : " acupressure massage" is designed to activate blood circulation thanks to the multiple points that massage the plantar area.
- Merino Silk : Natural Fibers for maximum comfort and warmth.
- Anatomically correct: special design for the right and left foot to adhere to the anatomy of the foot and maintain your performance.
- Ergofit technology: the tip design covers the fingers without wrinkles, without compression and without suffocating the foot.
Compressport Care Socks quality

Sizes

Attached files