PACK SAVINGS PUT IN SHAPE: Bosu Ball Kinefis + Kinefis Suspension Kit Type TRX: Perform a functional training wherever you want
price 83,65€
[Including VAT]
Product in stock. Immediate shipping
* The shipping costs are calculated in the shopping basket
Warranty is 2 years
Description
Description PACK SAVINGS PUT IN SHAPE: Bosu Ball Kinefis + Kinefis Suspension Kit Type TRX: Perform a functional training wherever you want
PACK OFFER GET FIT

The best combination of functional fitness equipment for a complete training session anywhere, even outdoors. Great improvement in strength, coordination, resistance, flexibility and fat burning aid.
Pack formed by:
- Bosu Ball Kinefis
- Kinefis Suspension Training System Kit Type TRX
Bosu Ball Kinefis Color Blue (58 x 20 cm)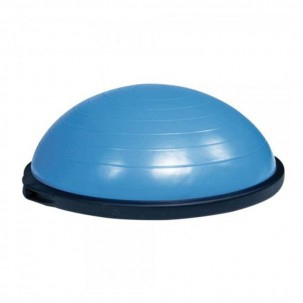 Bosu Ball Kinefis is ideal for proprioception work, improve posture, gain flexibility, coordination and agility. Very used in sports centers as preventive work for injuries and rehabilitation. Excellent durability
The Bosu Ball Kinefis is made of PVC and latex enables a wide range of exercises to improve fitness level both cardiovascular and toning.
Especially recommended for proprioceptive exercises because it offers the possibility of working on an unstable surface that not only helps strengthen muscles but also enhances balance .
Technical characteristics:
- Measures: 58x20cm, base height 2cm
- Weight: 5.4 kg
- Made of PCV, latex and plastic
- Color blue
- Maximum weight supported: 125 kg
- Storage: Keep away from extreme temperatures
- Maintenance: Clean with a cloth dampened with water
- Box measures: 64x64x15cm
WARNING!
Do not swell with a needle stain or insert any pointed object into the air inlet hole.
- This product does not contain the suspension ropes. You can buy them here .
Kinefis Suspension Training System Kit Type TRX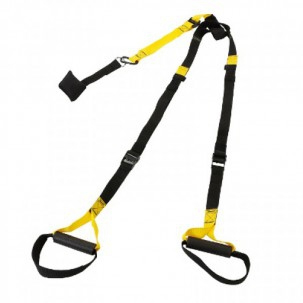 Kinefis TRX suspension training kit ideal for exercising the entire body anywhere
Kinefis TRX type training kit that It has two anchoring systems that allow it to be used with various supports such as trees, doors, windows, etc.
This simple accessory allows you to do many exercises and variations of work in suspension , a functional training that helps us increase our strength, endurance and muscle toning . If we also add accessories such as fitness ball or bosu the amount of possible exercises is multiplied.
Benefits of use:
- Improves the stability of the central muscles and flexibility .
- Strengthens and tones all muscle groups - using your own body weight
- Ideal suspension training for whole body work , suitable for both beginners and experts . Suitable for all different levels of people.
- It can be used anywhere , it can be attached to any door and it can be installed instantly at any time.
- Easy to clean , non-slip design to increase grip and safety during sweaty workouts.
Technical characteristics:
- Measures: 270 × 3.8cm
- Weight: 1kg
- Composition: Polyester and iron
- Color: Black and yellow
- Features: Includes 2 types of anchorage (adjustable anchor strap and tape with stop).
- Storage: Keep away from damp places
- Maintenance: Dry the sweat with a dry cloth or towel
- Maximum weight supported: 350 Kgs
Payment Methods
>

Credit cards: VISA, 4B, Master Card

>

Bank transfer

>

Paypal
Purchase terms
>

VAT included in all products

>

Shipping: Shipping costs may vary depending on the country of destination, and on the weight and volume of the products.
Physical store and contact