Pressotherapy Kinefis Farma Press Digital Complete with four cameras (Ref. PF1201087)
clients ratings:

5 of 5 (1 reviews)
price 805,00€
[Including VAT]
Product in stock. Immediate shipping
* The shipping costs are calculated in the shopping basket
Warranty is 2 years
Description Pressotherapy Kinefis Farma Press Digital Complete with four cameras (Ref. PF1201087)
Pressotherapy Kinefis Farma Press Digital Complete with four cameras - Versatile, comfortable and with all the virtues for a specialized treatment
Pressotherapy Kinefis Farma Press Digital Complete with four cameras is a new pressotherapy device for everyday well-being, especially aimed at women who want to solve the problems of circulation and intestines caused by cellulite and fluid retention in the most difficult areas. The device is equipped with 1 outlet with 4 sections to stimulate a part of the body. It comes standard with a set consisting of two legs (the arms and the waistband are available as an option) and a remote control to be able to regulate the therapy comfortably while sitting. The power supply allows continued use.
To whom is the Kinefis Farma Press Digital Complete Four-chamber Pressotherapy directed?
New Farma Press Digital can be used by all those people who need to perform the therapy directly at home. Its ease of use allows the application at any time and a normal outlet is enough to power the device and enjoy its beneficial effects.
Thus, pressotherapy meets all the requirements to be used by:
- Professional level: Given its high performance, comfort and easy transport.
- At the domestic level: Given its simplicity of operation, its small size and its adjusted price.
Indicated uses of the Kinefis Farma Press Digital with four cameras
The applications of the device are numerous and range from local and peripheral circulation, to aesthetic stimulation for the treatment of cellulite and lymphatic drainage. Thanks to the Kinefis Farma Press Digital Complete Four-chamber Pressotherapy, you can relax the most tired areas, stimulate blood circulation and relieve nerve and muscle pain in the legs, caused by swelling.
Main strengths:
- It is portable: the equipment and accessories weigh about 3 kg.
- Comfort: In addition to its low weight, it has a folding handle that facilitates its transport.
- It has a touch screen and intuitive.
- Remote control: allows you to configure the device comfortably while applying the treatment
- Allows three types of massage: sequential, peristaltic and alternated
- Adjustable pressure: 30 ~ 240 mmHg with 4 levels.
- The 4 cameras can be turned on / off independently , so it is possible to optimize the treatment for specific muscles or areas, or avoid it in others, for example, surgical wounds or other injuries that may not support the treatment.
The product includes: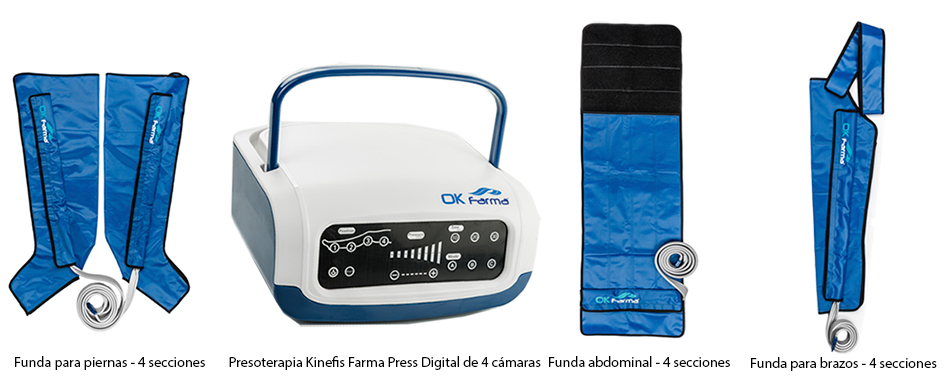 It is especially effective in:
1- Massage care: Three different air pressure massages on the legs / arms / waist to relieve tiredness and improve blood circulation.
2- Beauty care: For home use it can strengthen the elasticity of the skin and help the drainage of fat cells.
3- Lymphatic drainage: Through sequential compression therapy, you can improve muscle pressure to eliminate swelling or pain and improve lymphedema in the extremities.
4- Sports therapy: Perfect for before and after workouts, as well as for rehabilitation. Air compression therapy improves blood and lymphatic circulation, to provide a rapid recovery of the muscles releasing the accumulated lactic acid.
Functioning: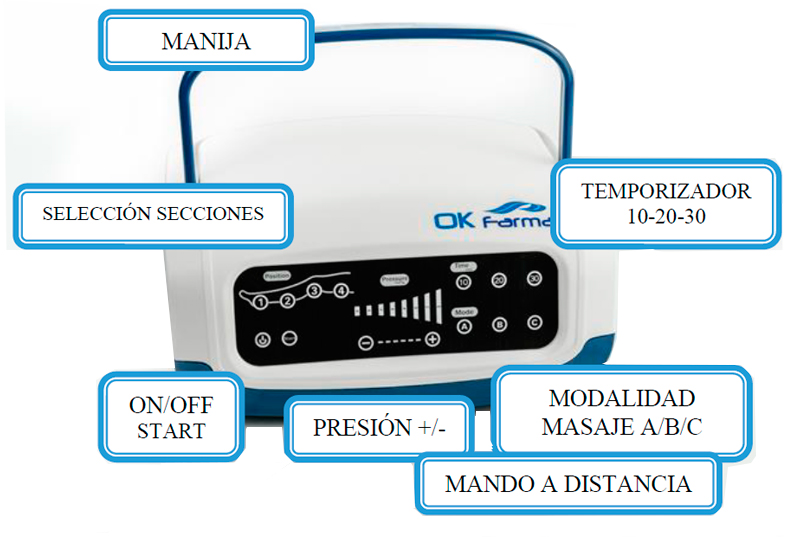 Technical characteristics:
- Power supply: 230V - 50Hz
- Output: 20-250mmHg
- Output channels: 4
- Device dimensions: 280 x 280 x 150 mm
- Total weight (device + accessories): 3 kg
- Class: II Type: BF
- Classification regarding protection against liquids: IP20
- Safety in the presence of flammable anesthetic gases: it is not of AP or APG category
Base allocation:
- Apparatus
- 2 legs of 4 sections
- 4 section arm cover
- 1 abdominal belt with 4 sections
- Remote control
- User manual
Measurements:
- The measurements of the leg accessory are: Length: 97cm; Circumference: ankle 42cm, knee 60cm, groin 68cm.
- The abdomen measures are about 125 cm x 37 cm
- The measurements of the arm are 90 cm long and a perimeter of 60 cm.
Warranty:
In the event of a malfunction, all equipment has a 3-year warranty , as long as the damage is not due to a blow or misuse of the equipment and has not been opened and / or manipulated by any person outside the technical service.
The accessories that come with the device such as cables, batteries, power adapters, heads, etc. are guaranteed for 6 months.
The fungible materials used for this type of equipment such as electrodes, conductive gel, etc. are not guaranteed.
Attached files
Parts and accessories for this product
Leg extensions compatible with Kinefis Farma Press Digital Presotherapy (4, 6 and 8 sections)