RADIOFREQUENCY DIATERMY IN THE TREATMENTS OF PATHOLOGIES OF THE PERFORMING ARTS - VIA ZOOM - 11-04-2023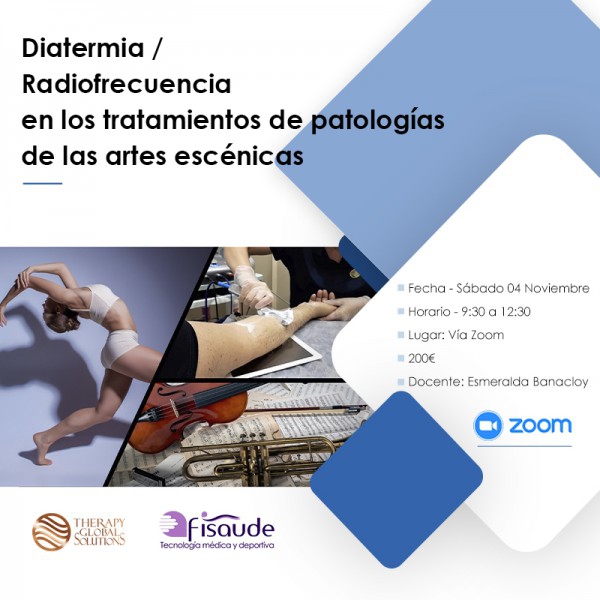 200,00€
Including VAT
(165,29€ without VAT)
Agenda and teacher
- This course will provide you with sufficient knowledge to strategically choose, within the therapeutic framework, the frequency, power, technique and duration of treatment to obtain optimal results, both in acute and chronic conditions.
- Diathermy is the non-aggressive physical therapy with the most powerful analgesic, anti-inflammatory and muscle relaxant effect, allowing us to obtain outstanding results in all types of pathologies, caused by the enormous number of hours maintaining forced postures or by continuously working certain muscle groups. , both in rehearsals and in their performances. In the same way, diathermy is also a great ally when it comes to preventing this type of pathology and favoring prompt return to professional activity.
- Viewing videos where you can see the correct way to use diathermy, applying manual, automatic and myofascial electrodes.
DATE : Saturday, NOVEMBER 4, 2023
SCHEDULE : 9:30-12:30h
TEACHERS : Esmeralda Banacloy
PLACE : Via ZOOM (You will receive the link by email one or two days before the training)
What you will learn:
- All the fundamental theoretical aspects of diathermy to be able to carry out treatments with maximum efficiency and profitability
- Being able to develop various therapeutic strategies to treat injuries to musicians, derived from instrumental practice, dancers, actors and singers
- Different forms of application of diathermy and its combination with manual therapy, hands-free technique and instrumentalized myofascials
- Treatment of pathologies such as: tendinopathies, fasciitis, muscle overloads, muscle and tendon tears, bone edema, chondropathies and enthesopathies
Addressed to:
Physiotherapists and specialists in the world of art
What you will need:
- Internet connection
- Computer, tablet or mobile
- Sign up and provide an email to receive the link to the ZOOM room
Content:
Modules:
1. Introduction
2. Technical aspects of Diathermy/Tecartherapy
3. Practical uses of Diathermy/Radiofrequency in pathologies of the performing arts
Syllabus:
1.- Injury mechanisms in the practice of art
2.- States of exhaustion or chronic fatigue due to overuse of the artist
3.- Role of diathermy in injury prevention
4.- Characteristics of the artist patient
5.- Effects of diathermy with evidence
6.- Therapeutic window
7.- Physiological effects of diathermy on the human body with evidence
8.- Special programs: vehicle, hands-free, scanning, athermal, pulsed
9.- Myofascial electrodes. clinical reasoning
10.- Benefits of the application of diathermy with IASTM
11.- Indications and contraindications, absolute and relative, of diathermy
12.- Objectives and treatment in the recovery, rehabilitation and strengthening phase
13.- Indications for the treatment of injuries in the recovery phase, readaptation and return to the scenarios
14.- Intervention strategies and practical cases for the treatment with instrumentalized manual, automatic and myofascial diathermy of:
Pain treatment: neck pain and low back pain
Tendinopathy: shoulder, elbow and wrist, De Quervain's tenosynovitis
Bursitis: subacromial shoulder bursitis
Nerve entrapments: carpal tunnel syndrome, throat syndromes (thoracic), ulnar entrapment
Myopathies: disorders of the speech system, contractures, muscle overloads and retractions, myofascial pain syndrome
Ligamentous and fascial disorders: plantar fasciitis, sprains
Joint disorders: TMJ disorders
Bone alterations: metatarsalgia, bone edema
15.- Questions from the participants
Teacher:
Banacloy Emerald
Director and trainer at Therapy Global Solutions
«I have been working with diathermy equipment of different brands for more than 25 years, currently in our practice we have 10 different equipment and I have to admit that if they are applied correctly and we have a correct diagnosis, excellent results are obtained with all of them and in some cases surprising even."