Radiofrequency Globus Tecar Beauty 6000 MED: Innovation, portability and efficiency at the service of aesthetics (Ref. G6246)
clients ratings:

4.5 of 5 (2 reviews)
Ask for budget
Product in stock. Immediate shipping
* The shipping costs are calculated in the shopping basket
Warranty is 2 years
Description
Promotion
Description Radiofrequency Globus Tecar Beauty 6000 MED: Innovation, portability and efficiency at the service of aesthetics (Ref. G6246)
The Globus Tecar Beauty 6000 Med device is a professional product for aesthetic and medical radiofrequency with capacitive-resistive transfer modality and with a very light weight, only 1.1 kg - Now also with the book 'Capacitive and Resistive Diathermy. Excellence in electrotherapy' totally free
The Globus Tecar Beauty 6000 Med radiofrequency is the professional medical and aesthetic radiofrequency equipped with 32 preset programs .
This radio frequency can emit different frequencies (from 400 kHz to 1 MHz) . The great advantage of this technology is being able to reach and act on the different tissues of the body, from wrinkles to the deepest cellulite.
The emission frequency, in fact, is strictly related to the depth of action (higher frequencies act more on the surface).
Tecar Beauty 6000 Med can work in two modes : the capacitive mode and the resistive mode to allow it to act with good effectiveness both on high-resistance fabrics (in practice, fabrics with a lower concentration of water) and those with less resistance.
Tecar Beauty 6000 Med generates radiofrequency waves for aesthetic applications, against skin aging both on the face and on the whole body. Thanks to the new handpiece, it is also capable of performing anti-cellulite treatments and firming programs . Globus Tecar Beauty 6000 Med also favors the vascularization and regeneration of skin tissue , eliminating imperfections caused by sun exposure and skin aging.
What is radiofrequency and how does it work in the aesthetic and medical field?
Radiofrequency is a technology capable of producing energy and transmitting a sensation of heat in the treated area. The increase in tissue temperature can be exploited to obtain improvements in the field of aesthetics and medical rehabilitation.
AESTHETIC FIELD : the heat allows the gradual restructuring of collagen, both superficially and deep, leaving the skin more compact and eliminating the signs of aging. The heat energy also activates fibroblasts, stimulating them to produce new collagen, resulting in tissue regeneration. Thus, the dermis is firmer and the skin more tense.
MEDICAL FIELD : the heat induced by diathermy stimulates the self-regeneration processes of tissues and muscles, reducing pain, relaxing contractures and accelerating all healing processes.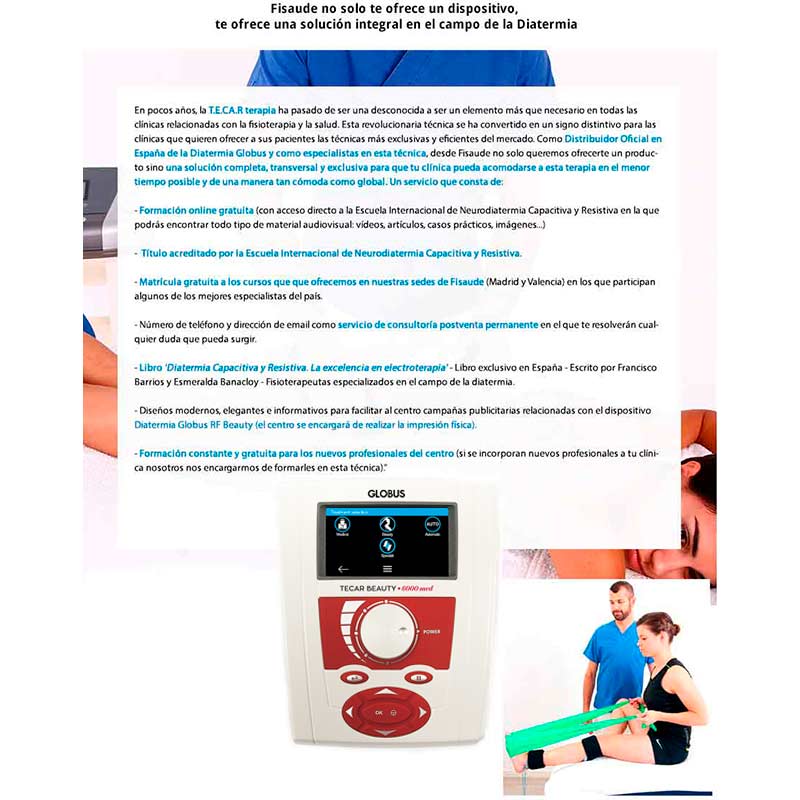 Programs:
- 7 FACE programs: facial wrinkles, eye wrinkles, facial acne, facial micro-lifting, couperose, facial furuncles, anti-aging.
- 10 SKIN programs : Skin Acne, Body Wrinkles, Neckline Lifting, Stretch Marks, Skin Elasticity, Scars, Boils, Skin Restructuring, Firming, Massage
- 10 CELLULITE programs: Lipolysis, Localized adiposity of normal weight, Cellulite (edematous), Fibrous cellulite, Sclerotic cellulite, Culotte de Cheval, Orange peel cellulite, Adiposity of the female abdomen, Adiposity of the male abdomen, Lymphatic drainage
- 5 MEDICAL programs: Low back pain, Shoulder pain, Cervical pain, Muscular distractions, Joint pathologies
Technical characteristics:
- Outputs: 2
- Handpieces: capacitive and resistive monopolar + resistive bipolar
- Emission frequencies: 400-470-680 KHz and 1 MHz
- Emission power: - Resistive and capacitive: 200 W ca +/- 20%
- Power supply: mains 220V 50/60 Hz
- Dimensions: 17 x 22 x 6 cm
- Weight: 900 gr.
- Display: color, backlit, touch screen
Basic endowment:
- 1 professional case
- 1 Unit Tecar Beauty 6000 Med
- 1 return electrode (plate)
- 1 capacitive handpiece with 3 plates of 30-50-70 mm Ø
- 1 resistive handpiece with 3 plates of 30-50-70 mm Ø
- 1 bipolar handpiece 30 mm Ø
- 1 manual
- 1 jar of cream
Accessories:
Do you want any more accessories related to Diathermy Globus RF Beauty 6000 Med? Click here to find them .
Warranty:
- This device has a 2-year warranty
- The accessories that come with the device such as cables, batteries, power adapters, heads, etc. have a 6-month warranty
- Expendable materials used for this type of device such as electrodes, conductive gel, etc. are not guaranteed.
* The guarantees will be applied as long as the device and its accessories are not damaged by misuse or negligence of the client: blows, broken displays, overvoltage, etc.
reviews
Reviews Radiofrequency Globus Tecar Beauty 6000 MED: Innovation, portability and efficiency at the service of aesthetics (Ref. G6246)
No reviews found for this product.

loading reviews...
<<
<

1

/
>
>>

reviews

view per page
Buena según lo esperado
#1 on 04/12/2021 N° Client: Teresa

La relación calidad precio es excelente.
#2 on 02/11/2021 N° Client: Adriana

Parts and accessories for this product