Reversible Tatami Puzzle Kinefis Blue- Red (thickness 40 mm and texture five lines)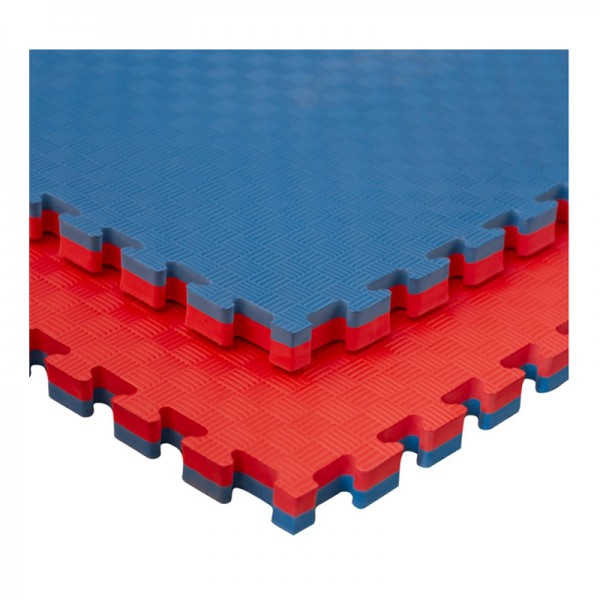 -21% off
29,95€
Including VAT
(24,75€ without VAT)
before 37,95€
Product in stock. Immediate shipping
* The shipping costs are calculated in the shopping basket
Reference: KNF-F40 A/R
Description
The Kinefis Reversible Tatami Puzzle in blue and red color (thickness 40 mm and five-line texture) is the most advanced solution for practicing martial arts. It is designed for maximum absorption and gradually restore energy thanks to its thickness. Its puzzle-shaped edges allow a very simple assembly-disassembly ; it is also easy to store as it is stackable .
Examples of use : any sport that requires high projection and constant falls, such as: Judo, Brazilian Jiu Jitsu, Aikido, MMA, Jiu Jitsu, Hapkido, Kung fu, etc.

Strengths:
- Non-conductive product of electricity
- Does not contain products classified as toxic and/or dangerous
- Easy cleaning: They use a cloth moistened with water
Technical characteristics:
- Texture: 5 lines
- Thickness: 40mm
- Colour: Blue / Red
- Dimensions: 1 x 1 m (Each piece includes the frames for a straight finish)
- Weight: 3.5kg
- Composition: High density Ethylene Vinyl Acetate (EVA)
- Anchorage: Puzzle Type. No adhesives.
- Hardness: 44
- Density: 80kg/m3
- Do not use corrosive products (Salfumán, ammonia…)