Richelli's Cross: Trigger Point Tool (Ref. RCCR)
clients ratings:

4.8 of 5 (5 reviews)
before 15,10€
price 13,37€


Offer -11%

[Including VAT]
Product in stock. Immediate shipping
* Shipping 11,95€, free from 300€
Description Richelli's Cross: Trigger Point Tool (Ref. RCCR)
Multifunctional tool, multidirectional and Download Hands
This tool allows the application of all manual therapy techniques, and allows the user an easy grip in an infinite number of positions.
By design it allows us to keep our fingers contact with the patient at the same time we use the tool so you do not lose sensitivity in treatment.
Every centimeter of the tool is designed to be a useful area while allowed to move in all directions.
Benefits of Using Cross Richelli`s
- Download the therapist's hands:
- With the hook we can roll it around a muscle (such as a pipe wrench) separating muscle planes and getting to exert maximum force without any effort
- Effect of the handle lever allows us to exert greater force
- Several points of support, one can be fixed (beat effect)
- You can use two hands instead of one. This gives us more control and strength
- The cross shape is based on Asian massage tools. Particularly suitable for the treatment of trigger points, Cyriax and small friction.
- High Performance Tool. Unbreakable. Easy to handle. Nice feeling. Easy to clean and disinfect. The high lubricity, can be easily applied, even on clothing.
- It is a multifunctional tool
- Due to its perfectly proportioned surfaces is very pleasant to the touch for the patient (confused by hand)
- Thanks to its multiple surfaces can be applied any manual therapy technique
- Small variations in inclination vary comfortable contact surfaces and thus its functionality
- For its rounded edges can combine a mov. one linear or a circular cross
- Dimensions: 11 cm x 10.5 cm x 2 cm
Data of interest
Specialists highest level RIchelli's use thank Stefan tools and training, which helps them to treat elite athletes in the Olympics Rio 2016.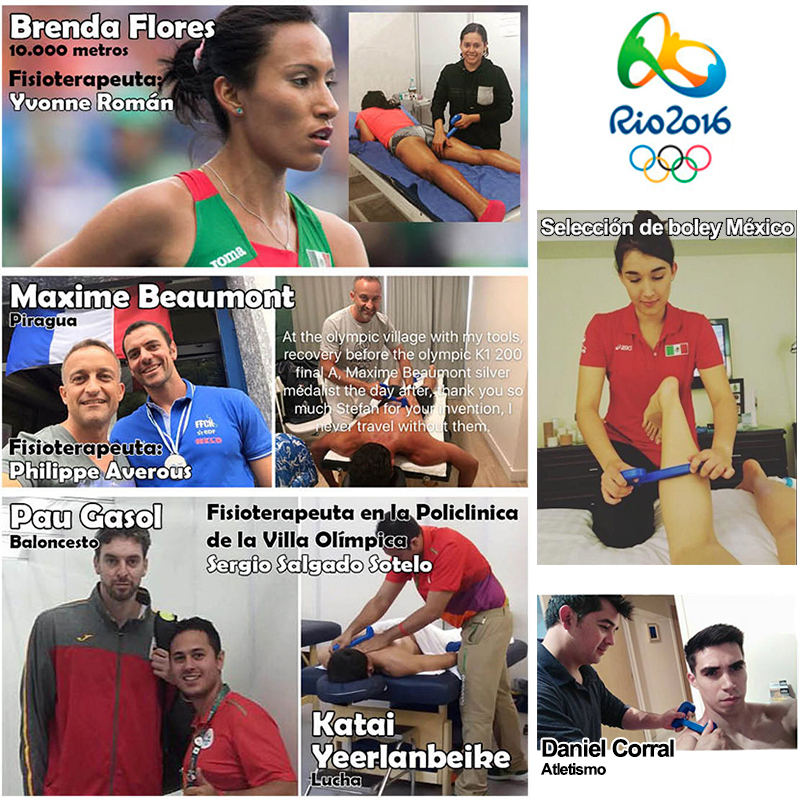 Official Web Richellis