Riester ri-former wall diagnostic unit two handles 3.5 V / 230 V, without clock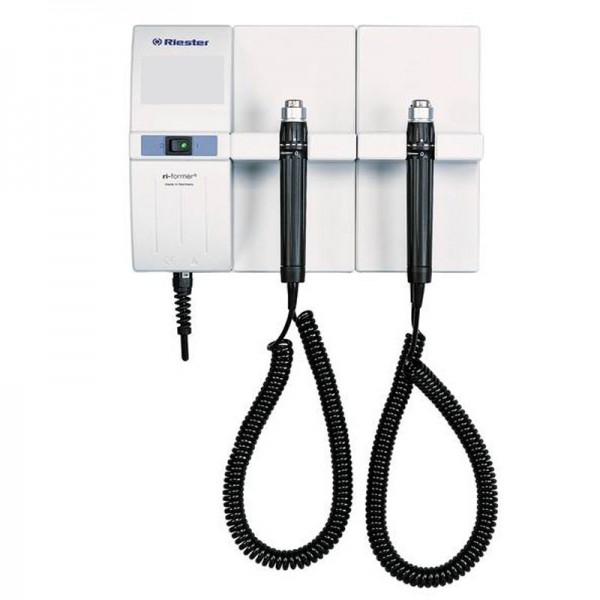 -6% off
419,95€
Including VAT
(347,07€ without VAT)
before 445,95€
Shipping in 20-30 days approx.
* The shipping costs are calculated in the shopping basket
Reference: 3652-300
Description
ri-former® is the ideal diagnostic unit for a medical office due to its versatility and possible configurations
The ri-former diagnostic unit adapts to all needs : it is available with one or two handles and with or without clock; Being connected to the network, it is independent of batteries.
The diagnostic station modules can be individually combined to meet different requirements and action locations. Thanks to its innovative design it can be added independently to the right and/or left.
The ri-former® base module is available with a single handle and can be supplemented with up to 4 additional handle modules. With its central power supply, ri-former® offers absolute reliability for operation in hospitals and medical practices.
Strengths:
- Practical: it adapts perfectly to the requirements of any medical center to cover all the needs of the medical staff
- Expandable: you can expand to the right or left with up to 4 additional handle modules
- Precise: get the best and most practical results with this Riester Ri-former modular diagnostic unit
- Adjustable: allows you to adjust parameters such as light intensity
- Cost savings: batteries and rechargeable batteries are no longer necessary, thus reducing maintenance costs and helping to protect the environment.
Presentation:
- ri-former® diagnostic unit
- Complete with wall plate, plugs, screws and assembly diagram.
- 2 handles
- *This product is supplied without diagnostic heads
Attached files
Spare parts and accessories for this product