Savings pack: Chison ECO 2 ultrasound with 10Mhz Linear Probe + APS e4 therapeutic percutaneous electrolysis device
before 5.495,95€
price 5.200,00€


Offer -5%

[Including VAT]
Product in stock. Immediate shipping
* The shipping costs are calculated in the shopping basket
Description Savings pack: Chison ECO 2 ultrasound with 10Mhz Linear Probe + APS e4 therapeutic percutaneous electrolysis device
Chison ECO 2 ultrasound with 10Mhz Linear Probe + APS e4 therapeutic percutaneous electrolysis device
Chison ECO 2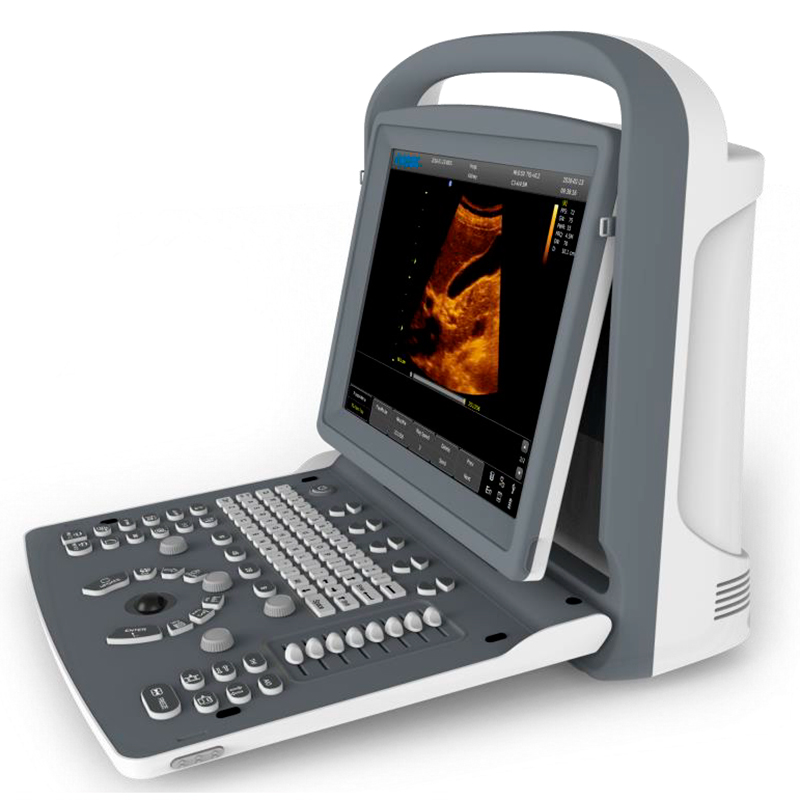 The arrival of the Chison ultrasound market is reinventing the portable ultrasound game. If the arrival of ECO 1 has marked a before and after within mid-range ultrasound scanners. The recent landing on the European ECO 2 market will mean a real revolution in the field of health.

Your secret? Incorporate technical characteristics close to premium ultrasound machines with a much more competitive price .

The combination of outstanding performance and a price consistent with mid-range ultrasound scanners make the Chison ECO 2 with 10MHz Linear Probe a unique device in the market.
ECO 2 achieves a competitive advantage over its rivals since it offers state-of-the-art features that adapt like a glove to the work of doctors and physiotherapists .
Thus, its intelligent control panel design, the full screen option, the ergonomic LED display, the patented EasyViewTM technology, the backlit keyboard, the magnificent PW resolution, join forces to transform the ECO 2 into an unattainable device for rest of mid-range ultrasound scanners. The reference device. An exceptional and incomparable ultrasound that has come to reign in the world of mid-range ultrasound. Virtues are left over.
Strengths of Chison ECO 2:
- Advanced technologies achieve a unique graphic definition among mid-range ultrasound scanners.

- The ultra-compact and slim design makes it an easy to transport device.

- New interface and new smart display that come accompanied by a high resolution LED monitor.

- Ultra long battery life for prolonged use, charged from the car.

- Easy and intuitive: 6-key protocol.

- Full screen function to enlarge the image.

- Complicated data management: all images and reports can be saved digitally during scanning and reviewed in a readable format - for PC: jpg, PDF.

- Large storage capacity: 8G internal memory, data backup can be done in batch on an external USB or PC effortlessly.

- Network: press a key to send data directly to DICOM (as an option), DICOM work list, storage, printing, structure report.
- The excellent PW resolution and the measurement of automatic PW traces will greatly improve the confidence in the diagnosis by offering both qualitative and quantitative results.
Technical characteristics:
- Main applications: Abdomen, OB / GYN, Vascular, small and specific areas (breasts, testicles, thyroid), conventional and superficial musculoskeletal, pediatric, basic cardiac
- Imaging technologies: i-Image, SRA, Compound, THI
- Display modes: B, B / B, 4B, M, B / M, PW
- Grayscale: 256 levels
- Scanning depth: 240 mm max.
- Probe frequency: 11MHz
- Zoom: 4 steps
- Software package: General, OB / GYN, URO, Cardiac, Vascular, Small parts
- File management : patient information management, image registration, exam report
- Power supply: AC 100V-240V, 50Hz-60Hz
- Full screen mode: i-Image, Chroma, SRA, composite images, THI,

- Memory card: 8G, PW mode
APS e4 Percutaneous therapeutic electrolysis: The revolution of invasive physiotherapy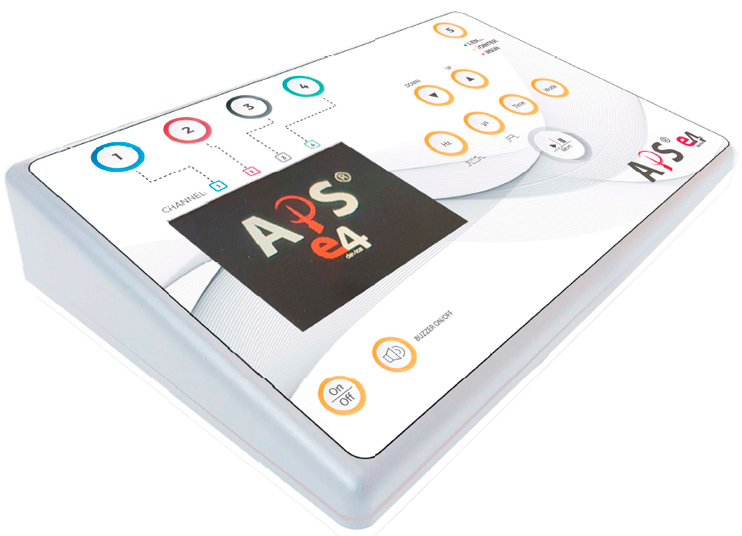 The APS e4 device is based on the most innovative technology to redefine the field of invasive physiotherapy. The APS e4 team erases the technological boundaries that limit other equipment to elevate invasive physiotherapy to a new level. Its technological components and the precision of its treatments are combined to configure the most complete equipment on the market thanks, also, to its four work programs:
- Pulsed single phase current
- Percutaneous electrolysis (IPEN)
- Neuromodulation
- Segmental stimulation (MSUN)
The team designed after years and years of study manages to combine different currents to carry out invasive physiotherapy treatments. This combination of currents becomes a great advantage for health professionals since they can carry out more treatments with the same equipment and these are much more accurate and effective.
The medical / therapeutic indications where it is especially effective are in the treatment of tendinopathies and soft tissue injuries (in patellar tendon, achilles tendon, pubalgia / hernia, lateral and medial epicondylitis, rotator cuff, plantar fascia and musculoskeletal injuries). That is, it becomes the main ally of the professional when it comes to rehabilitation, recovery and prevention treatments.
A device that anticipates the future of invasive physiotherapy.
Strengths:
- Compact: Never had a portable computer with these characteristics occupied so little space.
- Stable: APS e4 offers maximum stability and precision in the emission of currents. In addition, it allows us to know the exact voltage load in order to assess the real effectiveness of the treatments.
- Innovative: APS e4 is the first invasive physiotherapy equipment with which you can work connected to the power grid.
- Insurance: The equipment has an anti-collapse system that automatically restarts it in case of blockage, thus avoiding interfering with the patient.
- Memory: It has 50 storage memories to create your treatments.
- Remote: With a pointer capable of emitting current superficially by means of a strut or percutaneously with a needle.
- Reliable: The checkbox system performs a constant self-test of the equipment and its connections.
- Complete: The variety of programs included in the device allows a multitude of treatments.
Program table: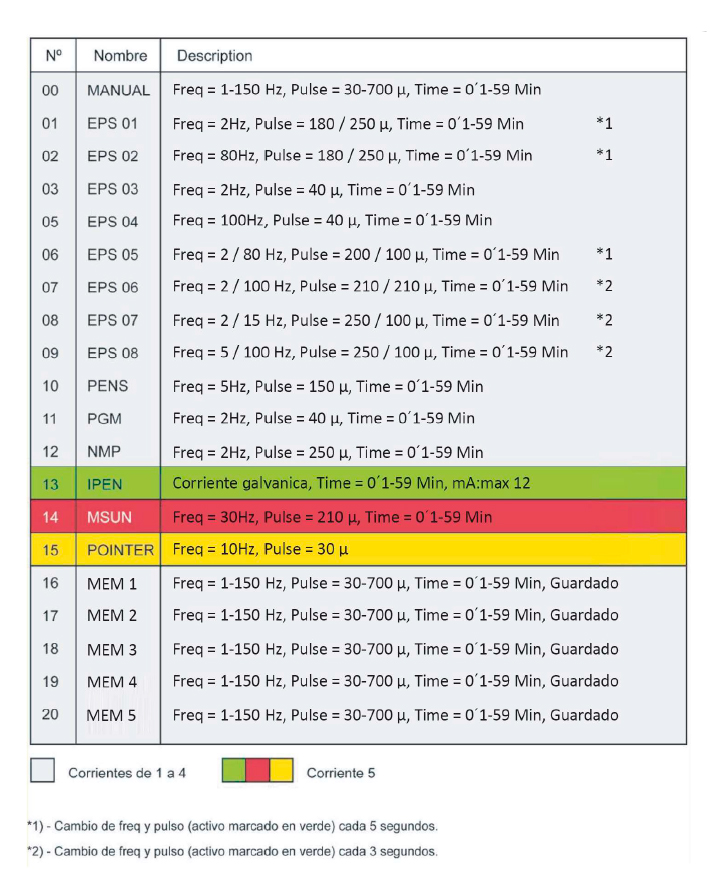 Work menu map: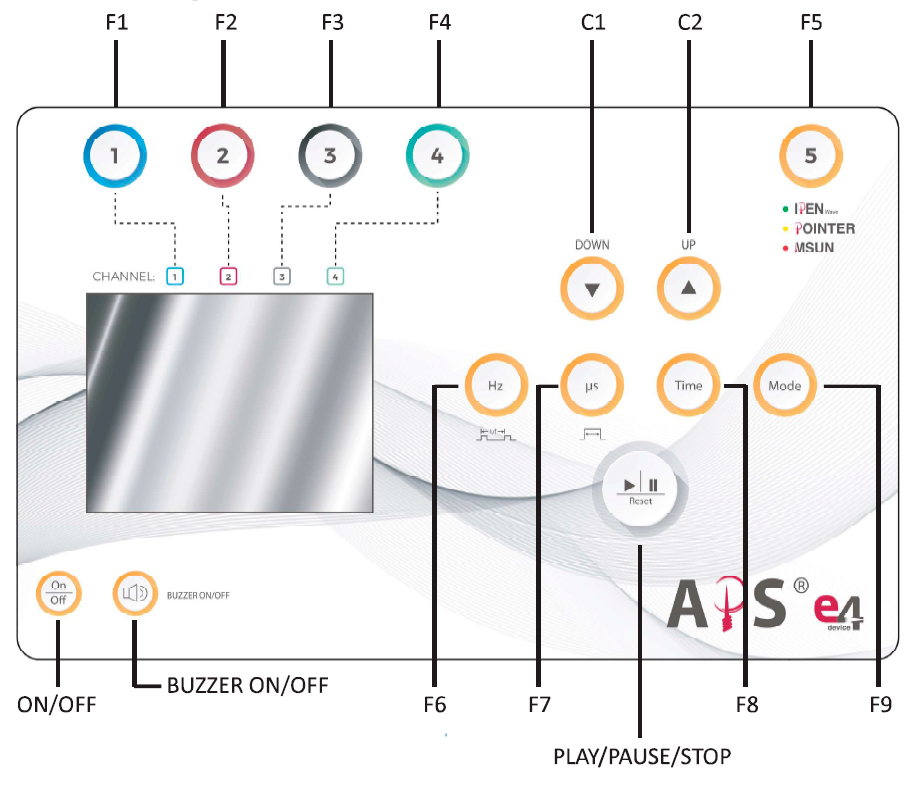 ON / OFF button:
- Short press with the device turned off turns on the device.
- Long press with the device on turns off the device.
ON / OFF buzzer button:

- Activate or deactivate the buzzer.
Function button (fx):
- These '' F '' keys select the variable to be modified (marked in orange)
- F1-F5: Select the current whose mA will be modified (if the mode allows)
- F6: Select the frequency for modification (if the mode allows)
- F7: Select pulse width for modification (if mode allows)
- F8: Select the treatment time for modification
- F9 (mode): In USER1 - USER5 long press modes, save Freq, Pulse and Time variables in the selected mode (i beep mode flashing)
Change button (CX):
These '' C '' keys increase or decrease the selected function (marked in orange). Long pressure increases the rate of change Freq / Pulse
PLAY / PAUSE / STOP button:
- In the '' STOP '' state, a short press starts the treatment.
- In the '' RUNNING '' state, a short press pauses the treatment.
- In the `` PAUSE '' state, a short press follows the treatment.
- In the '' PAUSE / STOP '' state, a long press resets the treatment.
Technical characteristics:
- Sanitary CE0120
- ISO 13485
Four outputs for single phase pulsed current:
- Power: 0.1 to 12.0 mA
- Frequency: from 1 to 150 Hz
- Pulse: from 30 to 700ʒs
Percutaneous electrolysis (Ipen-galvanic current):
- Power: 0.1 to 12.0 mA
- Voltage: from 10 to 700V
- Timer from 1 second.
Neuromodulation:
- Power: 0.1 to 12.0 mA
- Frequency: 10 Hz
- Pulse: 30ʒs
Segmental Stimulation (MSUN):
- Power: 0.1 to 12.0 mA
- Frequency: 30 Hz
- Pulse: 210ʒs
Base allocation:
- APS e4 device.
- Handle with on and off button.
- Four wires for single phase pulsed current.
- Charger designed for medical device.
- IPEN needle box for treatments with galvanic current.
- APS Dry Puncture needle box.
- Pointer for neuromodulation.
- Four electrodes.
Warranty:
- The devices of this supplier are guaranteed between 1 and 3 years (see each device)
- The accessories that come with the device such as batteries, power adapters, heads, etc. are guaranteed for 6 months.
- The cables of this supplier have no guarantee.
- The fungible materials used for such devices such as electrodes, conductive gel, etc. are not guaranteed.
* The guarantees will be applied as long as the device and its accessories are not damaged by the misuse or negligence of the client: shocks, display breaks, overvoltage, etc.