Sports First Aid Kit (Sports First Aid)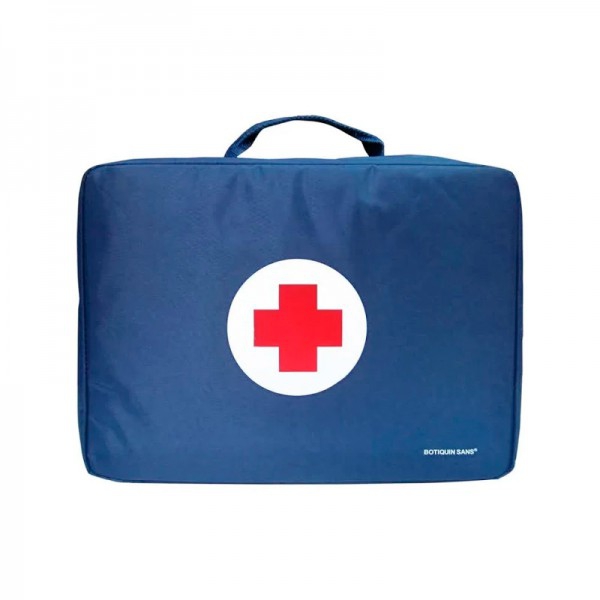 50,55€
Including VAT
(45,95€ without VAT)
Product in stock. Immediate shipping
* The shipping costs are calculated in the shopping basket
Reference: BOB30
Description
Strengths:
First-aid kit made of blue nylon.
• Interior with fastening tapes on both sides to improve the distribution of the material.
• Transparent sheet compartment and individual zipper closure inside to locate smaller products.
• Opening and closing by means of an external zip that runs around the entire perimeter of the first aid kit allowing a total opening of the toiletry bag for greater ease of use.
• Removable , resistant and extendable shoulder strap and fixed handle for carrying the first aid kit.
• Possibility of customization by screen printing, according to quantities.
• Individually packed by transparent shrink wrap.
Contents:
2 edged bandages of 5 cm x 5 m
2 edged bandages of 7 cm x 5 m
1 edged bandage 10 cm x 5 m
2 elastic bandage crepe 5 cm x 4 m
1 immobilizer splint of phalanges 2 cm x 5 0 cm
1 cotton zig zag of 50 gr
1 x 11 cm stainless steel scissors
1 x 11 cm stainless steel tweezers
1 bottle of 96º alcohol of 250 cc
1 bottle of hydrogen peroxide of 250 cc
1 hypoallergenic 1.25 cm x 5 cm tape
3 sachets of 5 sterile gauze pads of 16 cm x 25 cm
1 box of 10 1 cm x 6 cm adhesive dressings
2 boxes of 10 19mm x 72mm adhesive dressings
1 bag of instant cold
1 mask for resuscitation (mouth-to-mouth)
1 bottle of 50 ml povidone iodine
6 physiological serums of 5 ml
Technical characteristics:
Measurements: 36x27x12 cm
Color blue
Material: Nylon
Reviews
4,7
7 reviews