Strappal 4 cm x 10 meters: Inelastic adhesive tape - Sold per unit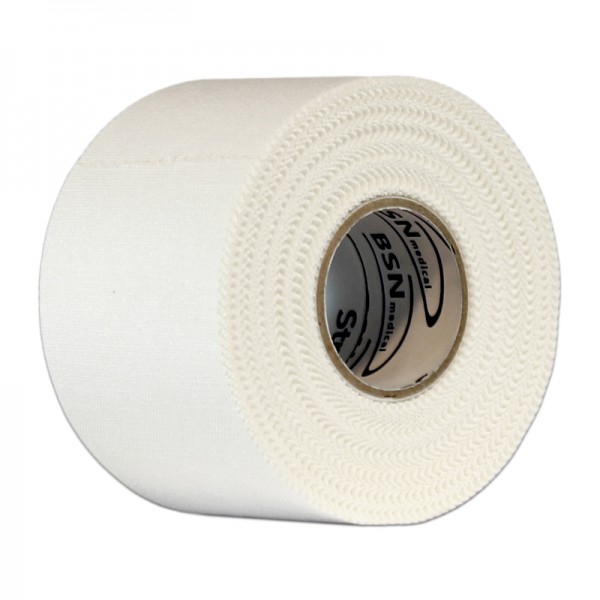 3,95€
Including VAT
(3,59€ without VAT)
Product in stock. Immediate shipping
* The shipping costs are calculated in the shopping basket
Description
Strappal. Inelastic adhesive tape with high dermal tolerance, special for Taping (functional bandages)
High-adhesive strappal, hypoallergenic adhesive, inelastic, tearable by hand in both directions, flexible fabric support, serrated edges, water-repellent support. Does not contain latex. Sale by units.
Features and benefits:
- Adhesive, hypoallergenic. Suitable for sensitive skin.
- Leaves no residue when removed
- Inelastic, limits movements
- Tearable by hand
- Easy to apply, no scissors needed
- It has serrated edges that prevent fraying
Indications:
- Bandage for containment, support and relief of mild and moderate injuries, such as sprains and joint sprains and muscle tears.
- Functional Bandage (inelastic technique). Prevention and treatment of mild and moderate injuries in joint and muscle areas.
- Functional Bandages for Sports Medicine and Physiotherapy, Traumatology, Occupational Medicine, Neurology and Rehabilitation
Reviews
4,7
39 reviews

loading reviews...
Eva
Spain
10/11/2023
Veronica
Spain
01/09/2023
Francisco
Spain
09/07/2023
anonymous
Spain
23/05/2023
Yolanda
Spain
25/04/2023
anonymous
Spain
06/02/2023
Juan
Spain
30/01/2023
Nuria
Spain
09/01/2023
Zuzanna
Portugal
03/10/2022
anonymous
Spain
23/11/2021