Tensospray 300 ml: Spray adhesive suitable for fixing bands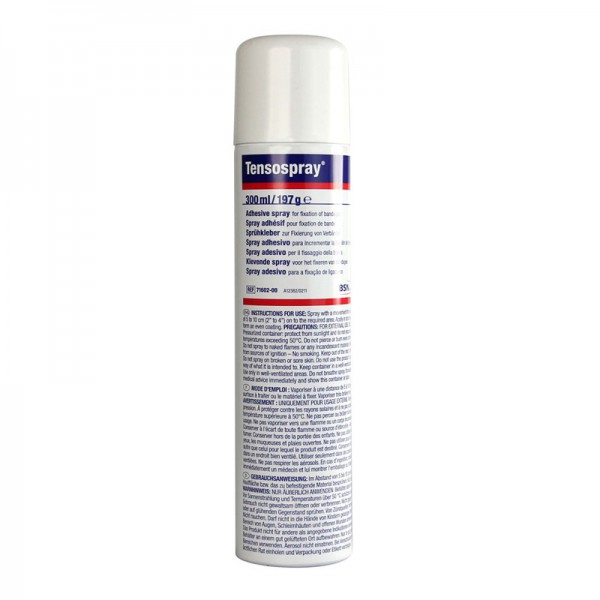 14,50€
Including VAT
(11,98€ without VAT)
Product in stock. Immediate shipping
* The shipping costs are calculated in the shopping basket
Reference: S N0094
Description
Tensospray is an adhesive for protecting the skin and hair spray and for fixing any material into irregular anatomic areas
Spray adhesive bandages for fastening
Benefits
- Hypoallergenic adhesive particularly suitable for patients with sensitive skin
- Removable with alcohol: easy removal without pain
- Good adhesion and fixation: therapeutic safety
- Presentation spray, fast and easy to apply
- Formation of a colorless protective film on the skin
- Metal Container: transportation safety
- Does not contain CFC: Ecological
- Radiotranslucent: radiological control allows interference
Indications
- Fixing pads, cures (or gauze pads) and bandages of any kind on healthy skin.
- Fixing hair under pre-bandages and adhesive bandages to avoid pulling the same.
- As hypoallergenic adhesive protection in patients with sensitive skin over conventional adhesives.
Composition
- Solvent: resin based product: aliphatic solvent and dimethoxymethane
- Gas: no halogen gas
Instructions for use
- Spray the affected area a distance of 5 - 10 cm of the skin with a regular circular motion to form a uniform layer. Do not spray hold.
- Do not apply on irritated skin or injured
- Do not inhale intentionally or vaporize the area of ​​the eyes or mucous membranes.
- Use and storage only in well-ventilated areas.
Expiration
- 3 years
Reviews
4,7
52 reviews

loading reviews...
anonymous
Spain
30/11/2022
Lucas
Spain
23/03/2022
Fisioplan
Portugal
18/02/2022
anonymous
Spain
27/08/2021
anonymous
Portugal
24/08/2021
anonymous
Spain
01/07/2021
anonymous
Spain
08/04/2021
anonymous
Spain
20/01/2021
anonymous
Spain
14/01/2021
anonymous
Spain
18/12/2020