100% Pure Almond Oil 1 Liter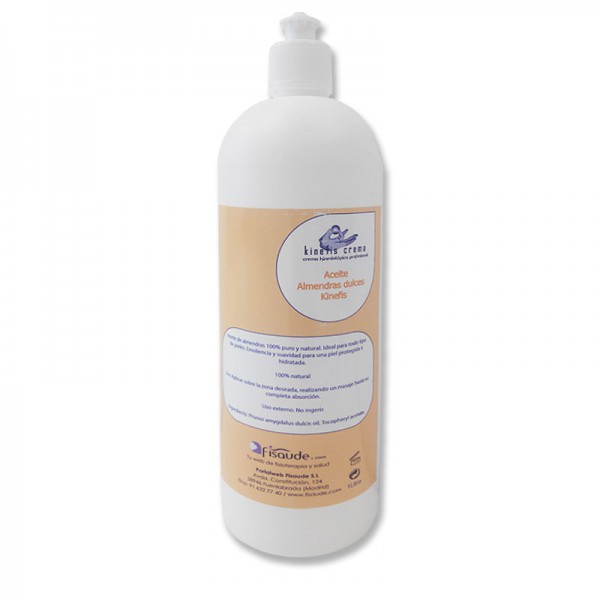 -33% off
9,95€
Including VAT
(8,22€ without VAT)
before 14,95€
Product in stock. Immediate shipping
* The shipping costs are calculated in the shopping basket
Reference: KNF-45872
Description
High quality 100% natural Kinefis Almond Oil ideal for all skin types
Kinefis almond oil is ideal for use on sensitive skin, adult , baby and pregnant skin, thanks to its great calming and revitalizing effect.
Ideal oil for performing massages .
Kinefis Almond Oil is free of triclosan.
Use of almond oil:
- It can be totally independent.
- It can be used to mix with the wide range of kinefis essential oils.
Profits:
1- It is used to soften all skin types including dry and flaky skin . It is a softening and moisturizing emollient and helps reduce inflammation . Due to its composition it is widely used in the cosmetic industry.
2- It is widely used in spas to give massages because it is light and its level of viscosity does not cause problems but it helps the hands slide and offers benefits for the skin.
3- It is used in aromatherapy as a carrier oil, that is, to dilute essential oils.
4- It is used in the treatment of mistreated hair since it provides shine and softness .
5- It is used for ailments of the digestive system because it has a laxative effect
Reviews
4,7
29 reviews

loading reviews...
CRISTINA
Spain
03/08/2023
Larysa
Spain
19/06/2023
anna
Spain
10/06/2023
anonymous
Portugal
23/01/2023
anonymous
Spain
22/06/2022
Maria Teresa
Spain
04/05/2022
M.del Carme
Spain
20/04/2022
anonymous
Spain
07/03/2022
anonymous
Spain
27/01/2022
anonymous
Spain
03/11/2021