Acupuncture Needles - Round Head Copper Handle with Guide (Azimuth)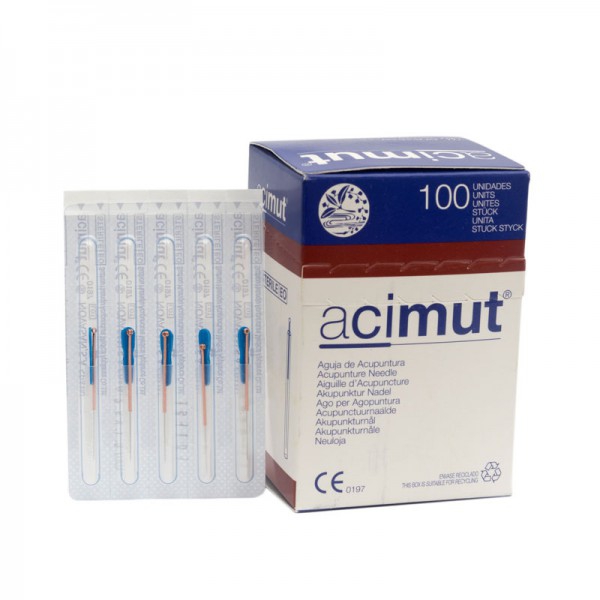 4,30€
Including VAT
(3,55€ without VAT)
* The shipping costs are calculated in the shopping basket
Available options
100 units:
0.25x13mm
Reference: AT1260
4,30€
100 units:
0.25x25mm
Reference: AT1261
4,30€
100 units:
0.25x40mm
Reference: AT1262
4,30€
Description
Siliconized steel acupuncture needle with copper handle with head and guide
The acupuncture needles with a copper handle, with a round head and with a guide stand out for their high quality and their elasticity, they are ideal for carrying out any acupuncture and traditional Chinese medicine treatment.
Copper shank acupuncture needles have a silicone coating that allows painless insertion. The heat-sealed individual container allows a quick and comfortable extraction and being made of copper enhances the effectiveness of the treatments since it is an excellent conductor of energy and in this field what is wanted is that the copper needles release all that energy negative that attacks the organism.
Technical characteristics:
- Head: With head
- Guide: With guide
- Handle type: Chinese
- Material: Copper
- Format: 100 units
Warranty:
- Items from this manufacturer (with the exception of accessories) have a 1-year warranty
- The accessories that come included with the products or that can be purchased separately, such as cables, applicators, light bulbs, batteries, power adapters, heads, etc. are not covered by the guarantee.
- Consumable materials such as electrodes, conductive gel, etc. are not guaranteed
* The guarantees will be applied as long as the device and its accessories are not damaged by misuse or negligence by the client: blows, broken displays, overvoltage, etc.
Reviews
4,8
29 reviews

loading reviews...
jenifer
Spain
19/10/2023
Teresa
Spain
19/04/2023
anonymous
Spain
20/03/2023
nuno
Portugal
07/03/2023
anonymous
Spain
07/09/2021
anonymous
Spain
27/08/2021
anonymous
Spain
05/08/2021
anonymous
Spain
30/03/2021
anonymous
Spain
02/10/2020
anonymous
Spain
11/12/2019