Acupuncture Needles - Silver Plated Handle with Round Head without Guide (Azimuth)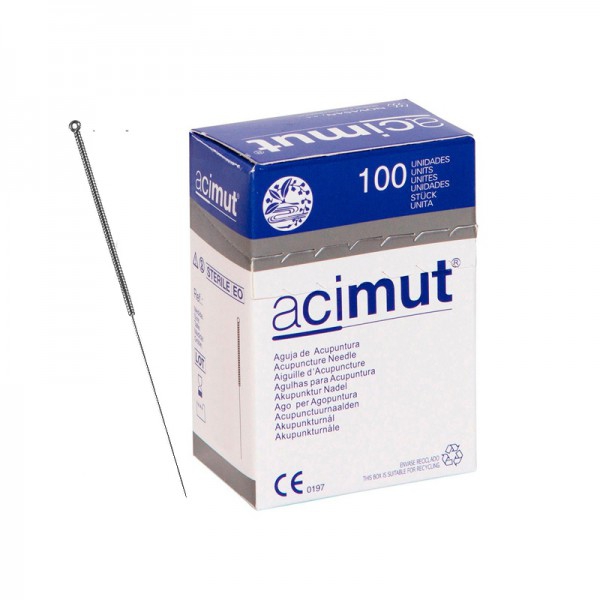 4,10€
Including VAT
(3,39€ without VAT)
* The shipping costs are calculated in the shopping basket
Available options
Description
Silver plated handle with round head without guide Brand ACIMUT
The disposable acupuncture needles with silver plated handle, round head and without Azimuth guide stand out for their high performance and flexibility.
The needles have several sizes (valid to carry out dry needling treatments). Its silicone coating allows a painless insertion. Blister with paper back. The individual heat-sealed container allows quick and convenient extraction. By having their handle bathed in a plate, they favor healing, which makes them ideal for cases of nerves or acute stress.
Technical characteristics:
- Brand: Azimuth
- Head: With head
- Guide: Without guide
- Handle type: Chinese
- Material: Silver
- Format: 100 units

Important each product has its own reference and price
Reference AT 1031 Measurement 0.32X25mm/30#x1
Reference AT 1048 Measurement 0.30X30mm/31#x1.2
Reference AT 1000 Measurement 0.26X13mm/32#x0.5
Reference AT 1091 Measurement 0.22X25mm/30#x1
Reference AT 1032 Measurement 0.32X40mm/30#x1,5
Reference AT 1002 Measurement 0.26X40mm/32#x1.5
Reference AT 1011 Measurement 0.26X25mm/32#x1
Reference AT 1720 Measurement 0.20X13mm/36#x0.5
Reference AT 1031 Measurement 0.20X25mm/36#x1
Warranty:
- Items from this manufacturer (except accessories) have a 1-year warranty
- The accessories that are included with the products or that can be purchased separately, such as cables, applicators, bulbs, batteries, power adapters, heads, etc. are not covered by the warranty.
- Expendable materials such as electrodes, conductive gel, etc. are not guaranteed.
* The guarantees will be applied as long as the device and its accessories are not damaged by misuse or negligence of the client: blows, broken displays, overvoltage, etc.
Reviews
4,9
18 reviews

loading reviews...
SANDRA
Spain
30/11/2022
MARIA TERESA
Spain
02/11/2022
Aurora
Spain
13/09/2022
José Jesús
Spain
20/04/2022
anonymous
Spain
23/12/2021
anonymous
Spain
19/08/2021
anonymous
Spain
26/07/2021
anonymous
Spain
28/06/2021
anonymous
Spain
03/03/2021
anonymous
Spain
02/10/2020