Adhesive Electrodes with Cable 50 mm x 50 mm New Age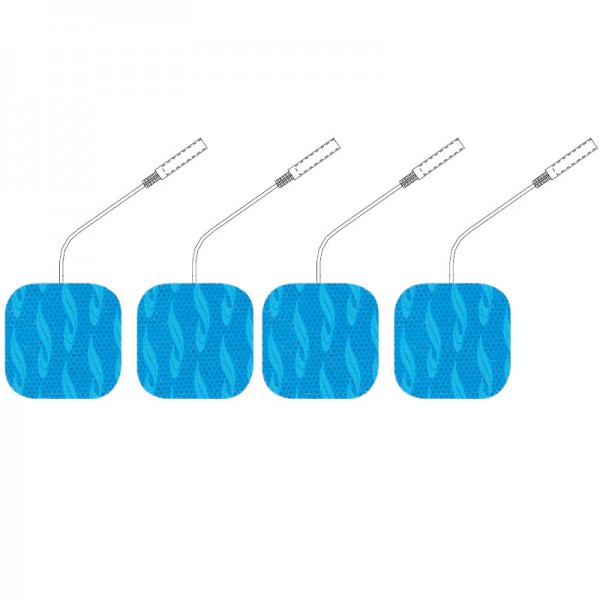 -57% off
3,40€
Including VAT
(2,81€ without VAT)
before 7,87€
Product in stock. Immediate shipping
* The shipping costs are calculated in the shopping basket
Reference: AC0002011
Available options
Bag:
4 units
Reference: AC0002011
7,87€ 3,40€
Bag:
40 Units
Reference: AC0002011
78,65€ 32,90€
Bag:
80 Units
Reference: AC0002011
157,30€ 62,60€
Description
Electrode with gel for electrotherapy equipment. 50 x 50 cm electrode cable connection
Reusable electrode made of soft and flexible tissue , with highly adhesive hydrogel . The electrodes are equipped with a long cable , with a 2 mm female connection.
Strengths:
- Cable connection: cable connection with built-in hose for 2 mm female connection.
- Comfortable : optimal restitution of electrical power for sessions of higher intensity, guarantee of greater efficiency.
- Reusable : variable depending on the type of leather and the conditions of use.
- Adaptable : it is possible to use it with muscle stimulators of other brands that work with an automatic button system.
- High conductivity of electricity.
- Comfortable and effective stimulation through the electrode.
Presentation:
- Bag of 4 units.
Measures:
- 50mm x 50mm
---
Warranty:
- Accessories that are not expendable are guaranteed for 6 months
- The expendable accessories of this supplier, such as electrodes, conductive gel, etc. have no guarantee
* The guarantees will be applied as long as the accessory or accessories are not damaged by misuse or negligence of the client: blows, breakage of displays, overvoltage, etc.
Reviews
4,7
30 reviews

loading reviews...
Pedro
Spain
25/05/2023
anonymous
Spain
28/04/2023
anonymous
Spain
03/01/2023
anonymous
Spain
05/01/2022
anonymous
Portugal
02/09/2021
anonymous
Spain
18/01/2021
anonymous
Portugal
25/06/2020
anonymous
Spain
24/04/2020
anonymous
Spain
10/03/2020
anonymous
Spain
15/12/2019