Blueberry Naturalium Superfood Shower Gel (500ml): Antioxidant effect to cleanse and care for your skin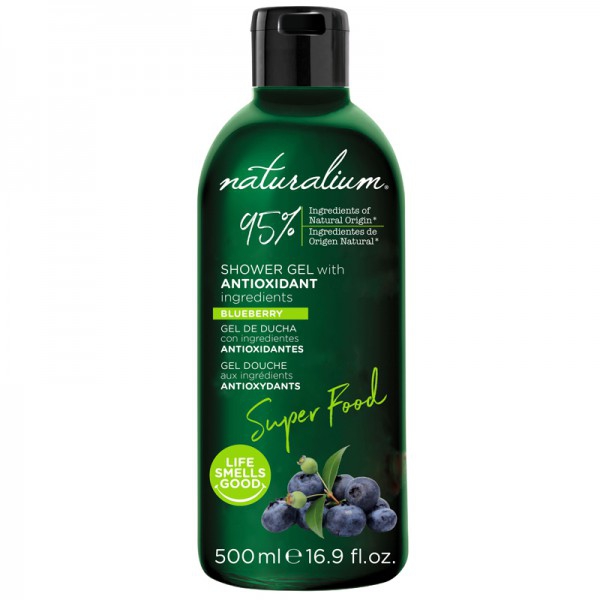 -33% off
4,99€
Including VAT
(4,12€ without VAT)
before 7,50€
Product in stock. Immediate shipping
* The shipping costs are calculated in the shopping basket
Reference: TM02388
Description
Naturalium Superfood Blueberry Shower Gel has a high antioxidant effect as it is enriched with bilberry extract and, in addition, it has a pleasant and intense aroma of this fruit.
What characterizes the bilberry is its abundance of natural pigments (anthocyanins and carotenoids) and its content of vitamin C , all of them with antioxidant action. It is widely described that these substances inhibit the action of free radicals and therefore protect against oxidative stress, exerting an antioxidant role and very useful for the correct maintenance of the skin in an optimal state .
Vitamin C has antioxidant action , like anthocyanins and carotenoids (provitamin A), and is also involved in the formation of collagen. Thus, at a global level, we can affirm that Bilberry has a protective activity for the skin against oxidative processes, it is an antioxidant and neutralizes free radicals .
Strong points of Naturalium Superfood shower gels:
- The Naturalium Superfood range of shower gels meets the Vegan criteria , and is made with 95% ingredients of natural origin according to the UNE-EN ISO 16128 standard for natural cosmetic products.
- The cleaning agents (surfactants) used in the formulation are of natural origin, easily biodegradable and have high biocompatibility with the skin.
- They provide an intense, compact and pleasant foam.
- They do not contain sodium laureth /lauryl sulfate, parabens, silicones, phenoxyethanol, mineral oils, alcohol or colorants.
Choose Naturalium Superfood:
The Naturalium Superfood range of cosmetics becomes the best ally to take care of your skin in a natural way. The cosmetics line includes hair care products (hair masks and shampoos) as well as body care products (shower gels and body lotions). A range that stands out for its careful formulation , for its extraordinary effects on the body and for meeting a series of requirements:
- 95% -98% Ingredients of natural origin according to ISO 16128

- Vegan

- No SLSS

- Easily biodegradable surfactants

- Without parabens

- Without phenoxyethanol

- No silicones

- No mineral oils

- Without alcohol

- Without colorants

- Not tested on animals
Reviews
4,8
18 reviews

loading reviews...
PIA
Spain
07/11/2023
anonymous
Spain
13/10/2023
PIA
Spain
02/10/2023
ROSARIO
Spain
11/09/2023
ROSARIO
Spain
04/09/2023
Patricia
Spain
13/07/2023
ROSARIO
Spain
20/06/2023
Franck
France
08/03/2023
ROSARIO
Spain
23/02/2023
ROSARIO
Spain
16/02/2023