Chison ECO3 Expert portable ultrasound system
Ask for budget
Product in stock. Immediate shipping
* The shipping costs are calculated in the shopping basket
Description Chison ECO3 Expert portable ultrasound system
Portable white / black ultrasound with doppler Chison Eco3 Expèrt
- Latest generation Doppler system - price
- Advanced technologies: I-image with intelligent image optimization, THI and SRA
- Ultra compact and easy to transport thanks to its low weight
- Sleek, modern design with a 12 '' rotatable LED monitor control panel
CHISON Eco 3 is a B / W equipment that offers great image quality. Superbly sharp images of multiple applications, of tendons and joints in large animals and of the abdomen, soft tissues and basic cardiology in small animals.
The device has the advanced technologies of the SRA, THI, which provide better contrast resolution. Technologies that are allied with the professional to achieve the best diagnoses in the most difficult patients.
In addition, the Chison Eco 3 Vet Expert comes to the market with a user interface specially designed to make the different operations can be carried out in an extremely simple way.
Choose the probe to equip your ECO 3 Expert Ultrasound Machine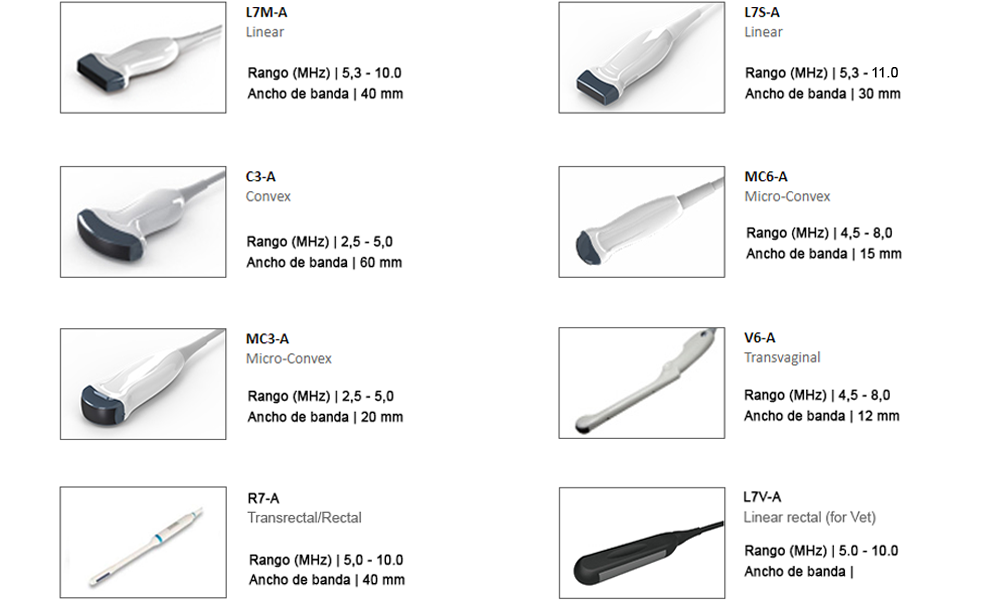 Strengths:
- Doppler system
- Advanced technologies: i-Image, THI and SRA
- Smart and intuitive interface and display with a rotating LED screen (0-30º)
- Ultra-compact and lightweight to transport anywhere easily
- Less radiation, less energy consumption and a longer useful life of your LED screen ( Eco-Friendly )
- Automatic PW tracking
- Automatic Image Optimization (AIO)
- Simplified workflow to make work more enjoyable
- Large storage: 8Gb memory card and 320Gb hard drive (Optional)
Technical characteristics:
- 2 connectors for probe.

- Easy to use and very intuitive thanks to the different function keys.

- Intuitive database: all images and reports can be accessed via digital scan viewable on the PC, and can be sent in JPG and PDF format.

- Memory: 8G internal memory; Data backup can be done on an external USB device or on a PC in bulk.

- Built-in rechargeable lithium battery BT-2500 (duration 2.5 h).

- Image mode: B, B / B, 4B, M and B / M, PW.

- Pulsed Doppler: pulsed Doppler (PW) with excellent resolution and automatic measurement of the tracing that improves the reliability of the diagnosis.
- High definition, 12 '' LED

- Definition: 1024X768

- Full screen option to enlarge the images.

- Tilt from 0 to 30 ° for better viewing from different angles.
- Backlit alphanumeric keyboard.

- 6 different function keys that allow directly: select the desired option, optimize the image (AIO Automatic Image Optimization), save the image and create a CINE-Loop, access the calculation (measurement) function, create reports, print from the PC or video printer.

- A warning light indicates the active function keys.

- 8 TGC controls for image regulation.
Advanced technologies:
- Multi-beam Former

- Zoom: 4 steps

- Cinema Loop: 256 images

- Space Compound Imaging

- SRA (Noise Reduction Algorithm): is a technique that uses a variety of useful algorithms to avoid "smudging", smooth images of fabrics and mark weak edges

- i-Image ™

- THI - second harmonic - to improve image quality

- Chroma

- Complete calculation packages: general measurements and clinical measurements

- EasyViewTMM image filing system

- Patient information management system

- Report creation system

- Cinema Loop

- Ethernet port, Video out, VGA port

- Thermal and laser printer support
- Languages: English, Chinese, Italian, Spanish, French, German, Russian, Czech, Turkish