Coach-2 Volumetric Breathing Incentive 4000ml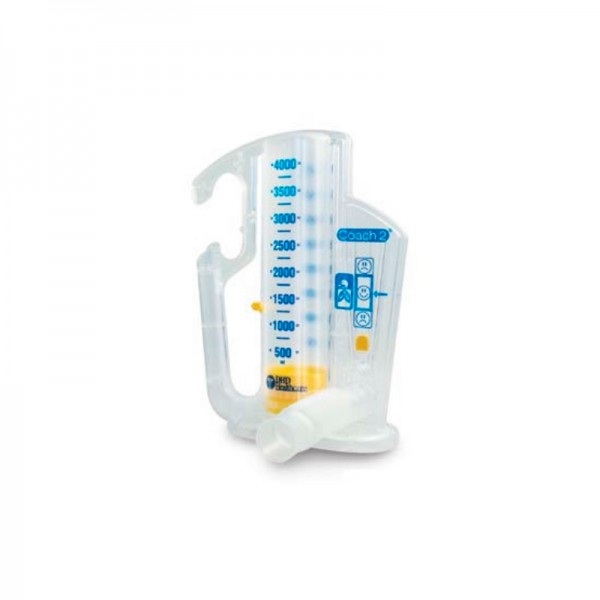 -25% off
9,95€
Including VAT
(8,22€ without VAT)
before 13,20€
* The shipping costs are calculated in the shopping basket
Reference: 22-4000
Description
The Coach 2 Volumetric Respiratory Incentive has a capacity of up to 4000ml. It is a respiratory exerciser for lung expansion that is mainly used after thoracic surgery to prevent lung collapse (actelectasis).
Technical characteristics:
- Inspired volume meter (ml) with graduated scale for a wide range of measurement volumes: 2000 - 2500 - 3000 - 3500 and 4000 ML

- Combine the volume with the adequate flow for a correct long and sustained inspiration. It has an O2 connection port for supplemental oxygen.

- The system is designed to be hung on the bed and with a compact handle to be able to be held correctly by hand for proper use.

- Contains a mouthpiece with corrugated tube to be able to perform the exercises.

- Composition: transparent PVC

- Certifications: According to MDD 93/42/EEC
- Free of latex.
- Not sterile.
Storage and labeling:
- Store in a dry place, keeping it away from light and dust.

- For single patient use. No risk of cross infection.
Reviews
4,7
105 reviews

loading reviews...
Carmen
Spain
28/02/2023
anonymous
Portugal
11/06/2021
anonymous
Spain
25/05/2021
anonymous
Spain
03/05/2021
anonymous
Portugal
27/04/2021
anonymous
Portugal
22/04/2021
anonymous
Spain
22/04/2021
anonymous
Portugal
06/04/2021
anonymous
Spain
26/03/2021
anonymous
Spain
16/03/2021