Complete Body Pump Set: Bar + discs + clamps (28 mm)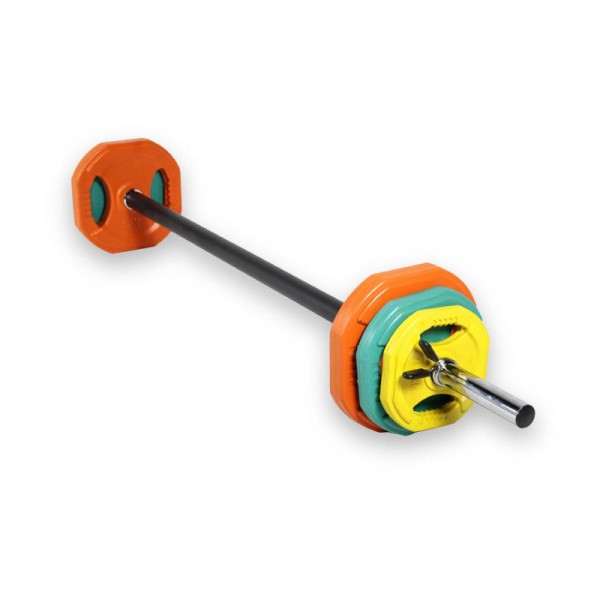 -22% off
79,95€
Including VAT
(66,07€ without VAT)
before 102,90€
Product in stock. 11 units in stock. Immediate shipping
* The shipping costs are calculated in the shopping basket
Reference: JBP28
Description
Complete Body Pump Set
Complete set for the practice of the body pump, it is a training program that combines aerobics with weight lifting exercises .
As a general rule, it is carried out in group classes of one hour in which a series of songs are played that serve as a guide for the exercise.
Each song works a muscle group.
Composite set:
- 2 discs of 1.25 kg
- 2 discs of 2.5 kg
- 2 discs of 5 kg
- Rubber Coated Iron Discs for Body Pump High quality rubber coated iron discs, edged to avoid scratching on the ground. They have holes to facilitate grip.
- 1 bar 140cm x ø 2.8 cm, weight: 2.16 kg
- 2 clamps of ø 3 cm
Usual disc colors: yellow, green and orange
Spare parts and accessories for this product
Body Pump Bar - Length 1.40 meters - Thickness 28 mm Reference: knf-2605
21,00 €
Product in stock. 29 units in stock. Immediate shipping
Body Pump Bar Ends (Bag of Two)
Product in stock. Delivery according to selected model.
Reviews
4,8
130 reviews

loading reviews...
Luciana
Spain
07/08/2023
Selene
Spain
03/12/2022
Alejandro
Spain
04/07/2022
anonymous
Spain
21/06/2022
anonymous
Spain
25/03/2022
anonymous
Spain
07/09/2021
anonymous
Spain
14/05/2021
anonymous
Spain
12/05/2021
anonymous
Spain
23/04/2021
anonymous
Spain
22/04/2021