Container for needles (1 Liter)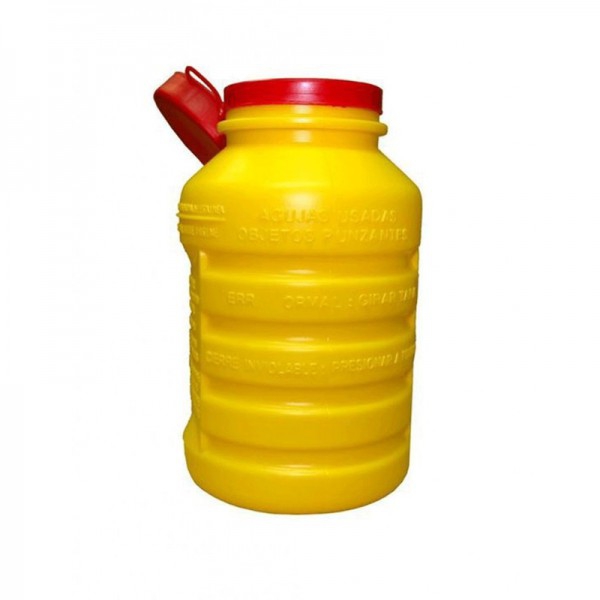 1,39€
Including VAT
(1,15€ without VAT)
Product in stock. Immediate shipping
* The shipping costs are calculated in the shopping basket
Reference: 90
Description
Cylindrical plastic container , yellow in color, with four transverse circular depressions and two facing longitudinal planes that provide rigidity and facilitate handling. The instructions for use, the maximum fill mark and the biohazard indication are engraved in high relief.
Cylindrical wide mouth provided with pressure-mounted red plastic cover and back cover. The back cover has an interlocking notch on its lower perimeter, is perforated in a wide circle with three perimeter notches , triangular, rectangular and pentagonal respectively , and the cover is attached by a flexible cord.
The lid is circular, smooth, and without any opening . It has an internal notch for its interlocking.
Measures
- Nominal capacity: 1060 ml.
- Empty weight: 89 grs.
- Base diameter: 100 mm.
- Diam mouth: 70 mm.
- Height: 173 mm.
Composition
Virgin high-density polyethylene dyed with homologated food grade colorants. Chemically inert, impermeable, resistant to physical agents, they do not emit harmful gases when incinerated in the presence of sufficient O2 (they are polyolefins).
Storage
Store in a dry place at room temperature.
Reviews
4,8
30 reviews

loading reviews...
anonymous
Spain
14/02/2023
José Ignacio
Spain
17/12/2022
José Jesús
Spain
30/11/2022
Nadine
Portugal
18/10/2022
anonymous
Spain
24/08/2021
anonymous
Spain
16/03/2021
anonymous
Spain
17/02/2021
anonymous
Spain
09/01/2021
anonymous
Spain
30/10/2020
anonymous
Spain
22/05/2020