Cure Tape 5cm x 5m fuchsia color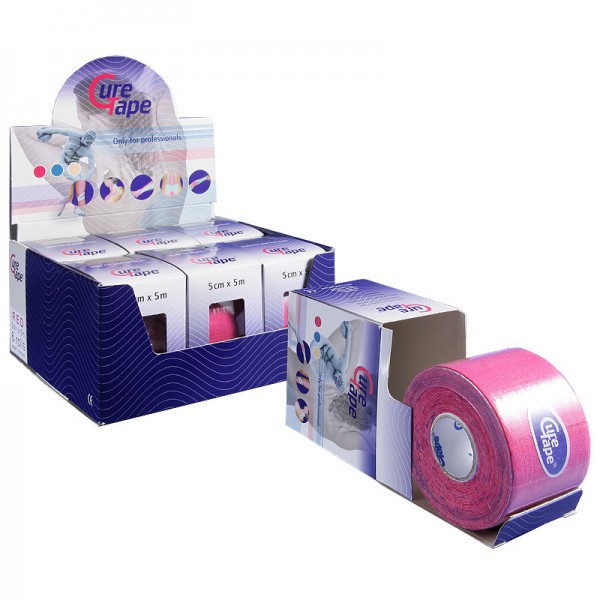 -13% off
12,40€
Including VAT
(11,27€ without VAT)
before 14,27€
Product in stock. Immediate shipping
* The shipping costs are calculated in the shopping basket
Reference: CT-4
Description
Cure Tape 5 cm x 5 mts
Cure Tape consists of a 100% cotton tape, adhesive and elastic in the longitudinal direction. There are no active chemical substances in the material which could be transmitted to the body and the hypoallergenic adhesive layer is arranged in the form of a "wave" allowing the skin to breathe, providing a greater stimulus on the somatosensory system and contributing to the effect " massage-drainage "when moving with the tape applied to the skin.
The material is made without latex and has an elasticity (130-140%) and thickness similar to those of the skin , it is resistant to water and can remain applied on the skin between 5 and 8 days without causing irritation.
Details:
Class A hypoallergenic adhesive tape, made of 100% cotton. This porous tape allows perspiration of the skin, prevents the accumulation of body fluids and skin rash. The elasticity of the tape allows it to be applied to any area of the body without restricting the range of motion. The acrylic adhesive used in the tape prevents irritation, and its application causes tension on the skin.
This tape does not contain chemical products, it can be applied in appropriate areas of the body to reduce musculoskeletal problems and at the level of the internal organs, leading to the natural healing of the affected parts.
It is a type of natural cure that applying the band in the indicated area contracts the muscles and activates circulation, balances the muscles that are in harmony with the surrounding area, healing the affected area, ending up balancing the body and mind. One of the basic theories of this bandage is that in contact with the skin, it activates a reaction from the muscles and organs.
After application, the area of the skin where the tape was applied will experience tension as the skin and muscles return to their natural position. When the skin is distended by this technique, blood flow and lymphatic fluid will normalize.
Functions:
The main functions of the Neuromuscular Bandage (TNM) are:
- Support the muscle
- Help the Lymphatic System
- Activate endogenous analgesic systems
- Correct joint problems
- Improve the structure of the skin.
Registered:
Cure Tape is registered in the Netherlands as a Class I Medical Product following the laws of the European Community. The registration number is NL / CA01 / 04-07434.
Attached files
Reviews