Kettlebells Vinyl Maxi: Made of vinyl, soft to the touch and large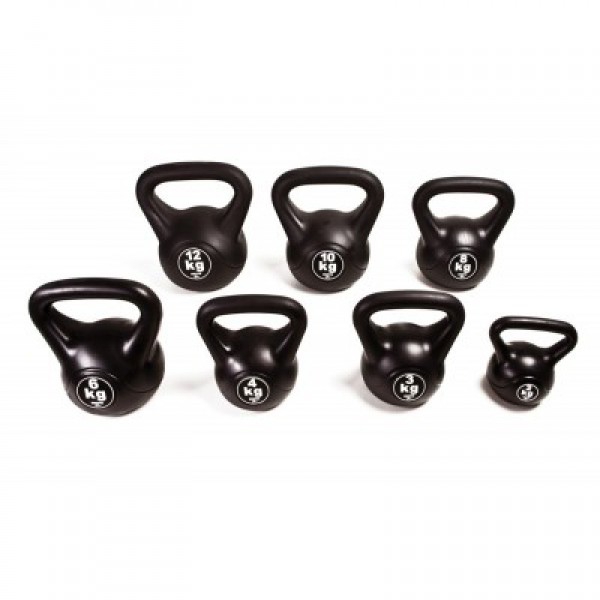 -6% off
8,25€
Including VAT
(6,82€ without VAT)
before 8,80€
* The shipping costs are calculated in the shopping basket
Available options
Weight:
3kg
Reference: 610021
8,80€ 8,25€
Description
Kettlebells made of Vinyl. Soft to the touch. Filled with cement. Good quality at the best price.
The Russian weight (or kettlebell) is a traditional weight that consists of a ball similar to a cannonball with a handle, made of various materials. Kettlebells have become a popular exercise tool around the world.
Training with these weights has beneficial effects on strength and flexibility. Kettlebell workouts build strength, stamina, agility, and balance, challenging both muscular strength and the cardiovascular system.
In recent years, kettlebells have become popular among athletes, especially martial arts practitioners, and in the entertainment community.
Measures:
- Diameter: 11cm

- Height: 17cm
Reviews
3,9
21 reviews

loading reviews...
anonymous
Spain
17/07/2021
anonymous
Spain
24/05/2021
anonymous
Portugal
16/01/2021
anonymous
Spain
20/07/2020
anonymous
Spain
07/05/2020
anonymous
Spain
05/05/2020
anonymous
Spain
22/04/2020
anonymous
Spain
07/04/2020
anonymous
Spain
04/04/2020
anonymous
Spain
04/04/2020