Kinefis Grape Oil 500ml with dispenser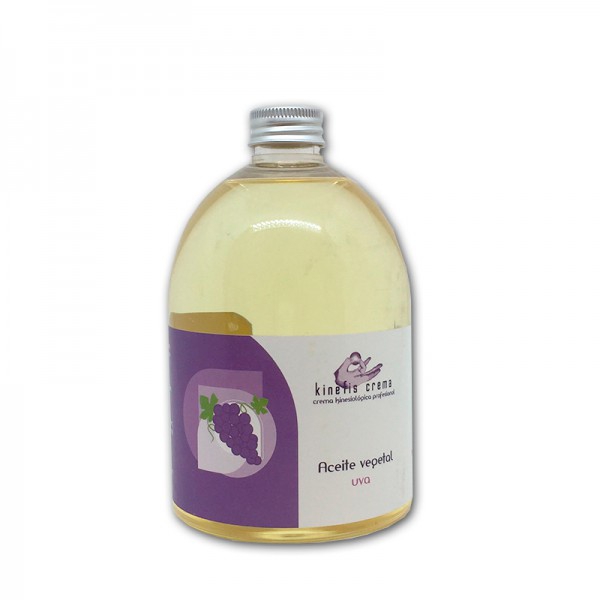 -30% off
6,95€
Including VAT
(5,74€ without VAT)
before 9,95€
* The shipping costs are calculated in the shopping basket
Reference: V1410236
Description
Oil that, thanks to its composition, has properties reduces pain from tissue inflammation and prevents joint pain and prevents folliculitis
Kinefis massage oil with 100% vegetable base , contains in its composition pure grapeseed oil , which helps to restore the natural lipid barrier of the skin leaving it protected and reducing the loss of transepidermal water .
The skin will be elastic and at its optimum level of hydration . In addition to maintaining this barrier in optimal condition, the skin will be better protected against external aggressions such as sudden changes in temperature ...
- It is also rich in vitamins C and E , which give it a high antioxidant power .
- Combats the action of free radicals , if it is applied in a constant way it will be fighting against the premature aging of the skin and this will be more smooth, soft and luminous .
It also has great emolliency so it is ideal to apply on dry and / or rough skin since it attenuates imperfections, leaving the skin smooth and taken care of.
Natural Formulation Kinefis
It has a rich grape aroma:
- Does not contain mineral oils
- Does not contain parabens or phenoxyethanol
- Does not contain silicones
How to use
Apply directly to the skin for the performance of massages or for the daily care and hydration of the skin.
Ingredients
Helianthus anuus seed oil, Vitis vinifera seed oil, Parfum, Tocopherol, Limonene, Cinnamyl alcohol, Benzyl alcohol, Citronellol.
Presentation
- 500 ml canister with dispenser
Reviews
4,8
47 reviews

loading reviews...
Patricia
Spain
03/07/2023
Laura
Spain
29/04/2023
Jose Antonio
Spain
21/01/2023
Rosa Isabel
Spain
12/01/2023
Fernando
Spain
08/12/2022
Juan
Spain
18/10/2022
Sofia Gonçalves
Portugal
02/08/2022
Fernando
Spain
30/04/2022
António Fernando
Portugal
26/04/2022
anonymous
Spain
07/03/2022