Kinefis Intensive Cold & Hot Pack: Kinefis Cold Gel + K-Silver Kinefis Heat Cream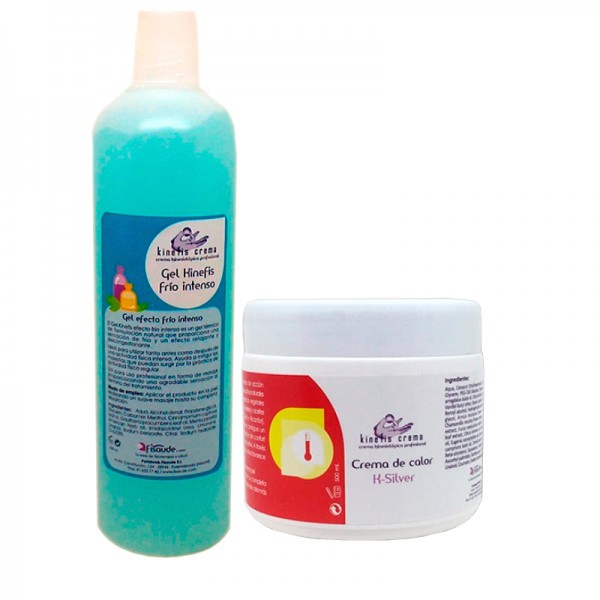 -34% off
18,95€
Including VAT
(15,66€ without VAT)
before 28,50€
Product in stock. Immediate shipping
* The shipping costs are calculated in the shopping basket
Description
Pack Cold & Hot Intensive Kinefis is the perfect solution to relieve the most painful areas of your body, to solve problems of sprains, low back pain, muscle aches, poor circulation, inflamed joints

and other similar problems.
Kinefis Intense Cold Gel 500 ml
A new product of the Kinefis brand which ensures quality and results at a very competitive price. Kinefis offers us an intense cold gel with a completely natural formulation.
The Kinefis Gel intense cold effect is a thermal gel of natural formulation that provides a feeling of cold and a relaxing and decongestant effect. Susceptible to be used in all situations where the sensation of cold is recommended.
Ideal for use both before and after intense physical activity. It helps mitigate the discomforts that may arise from the practice of regular physical activity.
Useful for professional use in the form of massage providing a pleasant sensation at the end of the treatment.
Apply the product on the skin with a gentle massage until completely absorbed.
Kinefis K-Silver Heat Cream 500 ml
Excellent formulation with top quality natural assets such as plant extracts (Camomila, Centella, Fucus, Arnica and Melisa) and essential oils (Orange, Rosemary, Clove and Camphor).
When applying the cream on the skin a heat effect is achieved that attenuates muscle and joint discomforts allowing better sports performance. Through its composition rich in active ingredients relaxes and improves the trophism of the treated area. The heat effect is combined with the action of the natural active ingredients of which it is endowed. Improving the muscular and articular state, acting on the tense bands and trigger points that cause the pain. The heat effect allows to evoke the gate control that minimizes painful sensations.
Apply directly to the skin, performing an intense massage until completely absorbed. If a more intense heat sensation is required, accentuate the massage.
Quality assurance of the Kinefis brand and always at the best price.
Reviews