Kinefis Quality Perimetral electric stretcher with two bodies: Perimeter control for height adjustment, reclining headrest by gas piston, highly stable structure and unbeatable value for money
-26% off
649,99€
Including VAT
(537,18€ without VAT)
before 883,25€
* The shipping costs are calculated in the shopping basket
Reference: CE-KIN-OP-PLUS
Available options
Description
The Kinefis Quality electric stretcher can boast of being the ideal stretcher model to carry out physiotherapy, osteopathy, chiropractic and aesthetic treatments with the best value for money on the market.
Strengths:
- The Kinefis Quality model combines aesthetics and functionality like few others, since it has very careful finishes and characteristics of high-end stretchers.
- The stretcher is raised by a motor that is controlled by a foot-operated perimeter control from both sides of the stretcher. This accessory is essential when it comes to improving the day-to-day life of health professionals as it adds a plus of manageability and comfort of use to the therapist .
- The backrest is reclining by means of a gas piston , accessible and comfortable, which ensures that the movement of the headboard is smooth and fluid.
- The headboard can also be reclined negatively. Facilitating the therapist all those treatments that benefit from this situation. Despite this action, it is a stable headboard that projects a lot of security to both the patient and the therapist.
- This stretcher is equipped with retractable wheels. With an easy actuation with the foot that allows us to move the stretcher easily.
- Its structure is robust and stable and has a PVC upholstery of extraordinary density and durability.
- It also has an ergonomic and well-finished facial hole , to avoid discomfort when lying face down. This stretcher includes a pillow-like cushion face plug specially designed for patient comfort.
- Another differential element of the Kinefis Quality stretcher is its ability to lower down to a minimum height of 43 cm . Which makes access to the patient very comfortable. Especially important in cases where patients have mobility difficulties that make it difficult to access stretchers with a higher minimum height.
- As if all this were not enough, the Kinefis Quality stretcher includes as standard an accessory as practical for professionals as the roll holder.
Technical characteristics:
- Elevated in height by an electric motor from 43cm to the ground to 77cm to the ground.
- Perimeter foot control.
- Backrest reclining at 90º and negative reclining at 23º by gas piston.
- Manual control behind the backrest.
- Two retractable wheels activated by a foot button.
- Upholstered in anthracite gray PVC , density 25kg / m2 and 5cm thick.
- Stretcher paper roll holder.
- Facial hole with pillow type headboard.
- Maximum weight 200kg
Adjustable elements of the Kinefis Quality stretcher: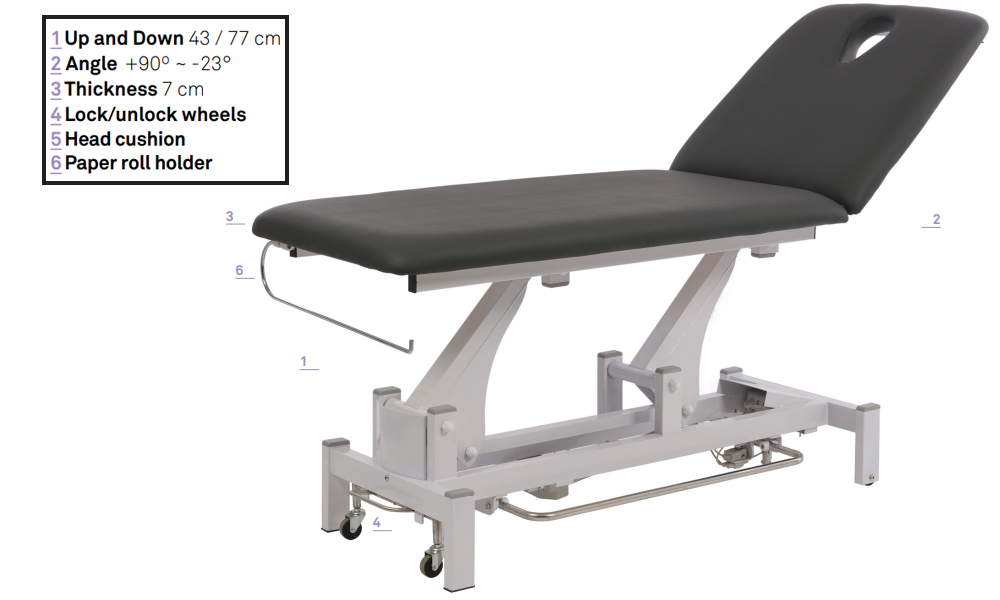 Measures:
- 198cm x 68cm x 43 / 77cm.
- Weight: 57kg.

Warranty:
- 1 year
IMPORTANT!
The price includes shipping costs to the Peninsula. Following the current policy of the transport companies, the delivery will be made at the street door. If it is necessary to go up or down a floor, you should contact us to request a porter service from the transport company. This Service is an additional charge.
Attached files
Spare parts and accessories for this product
Reviews
4,9
12 reviews

loading reviews...
Vitor Alexandre
Portugal
06/07/2023
Alexander
Spain
23/06/2023
anonymous
Spain
05/02/2023
Juan
Spain
02/02/2023
JUAN
Spain
15/08/2022
miguel
Spain
01/06/2022
Ruben
Spain
15/05/2022
PASCUAL
Spain
11/05/2022
anonymous
Spain
15/02/2022
anonymous
Spain
20/09/2021