Kinesio Tex Classic 5cmX4m Beige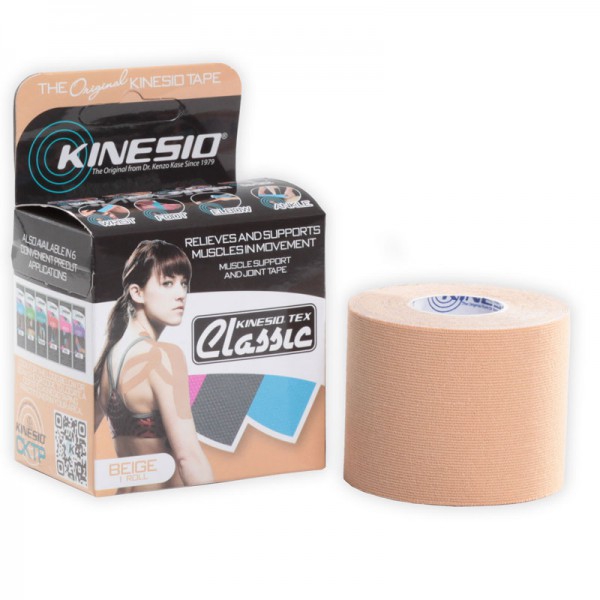 -47% off
7,85€
Including VAT
(7,14€ without VAT)
before 14,95€
Product in stock. Immediate shipping
* The shipping costs are calculated in the shopping basket
Reference: CKT65024
Description
Tape cotton, porous, breathable and very skin thickness. 140% elasticity lengthwise.
Latex-free and hypoallergenic.
It can be used for 3-4 days.
The Kinesio Tape gives support and stability to your joints and muscles without affecting range of motion. It is a technique based on the body's self-healing process.
Kinesiotape strip the skin to increase the space between it and the muscles, to reduce the pressure locally makes circulation, lymphatic drainage increase and decrease irritation of subcutaneous nerve receptors.
As a result the Kinesiotape reduces pain, muscle spasm and inflammation and thus speeds up the natural healing process of the body.
Cornerstones of Kinesio Taping method
• Apply tape over and around muscles in order to help and give support or to prevent inordinate.
• Apply power to the tape or in the treatment area in order to create space under the skin and create the desired effect on the muscles.
• Produce changes in the deep layers of the fascia by manipulating the skin and muscle.
• Create space under the skin to improve circulation and lymphatic drainage.
• Use a series of corrective techniques to promote proper function of muscles and joint.
• Relieve pain to treat the place of pain and origin.
• Use strips in the form of "I" or changes in the shape of an "X", "Y" or other specialized forms
• Apply the base of the treadmill stress for traction toward the base.
This surprising elastic therapeutic tape was developed by Dr. Kenzo Kase over 35 years in Japan. Since then, the tape Kinesio Tex® Classic has become the standard for therapeutic and rehabilitative taping.
• made of a strip of soft cotton fiber
• adhesive has a 100% medical grade acrylic.
• Totally free of latex
• No limits range of motion
• You can use 3-5 days to cover and save money
• It creates a lifting effect that improves circulation and relieves pain
• The tension on the tape has the ability to relax or stimulate the muscles
Reviews
4,9
16 reviews

loading reviews...
anonymous
Portugal
21/02/2023
anonymous
Spain
19/02/2023
anonymous
Spain
16/11/2021
anonymous
Italy
22/10/2021
anonymous
Portugal
28/07/2021
anonymous
Portugal
20/07/2021
anonymous
Portugal
17/02/2021
anonymous
Spain
13/01/2021
anonymous
Spain
14/05/2020
anonymous
Spain
11/03/2020