Lebyutí Kosmetiké Gold for Woman anti-aging cream (50 ml): Combats the signs of aging thanks to its epithelial growth factors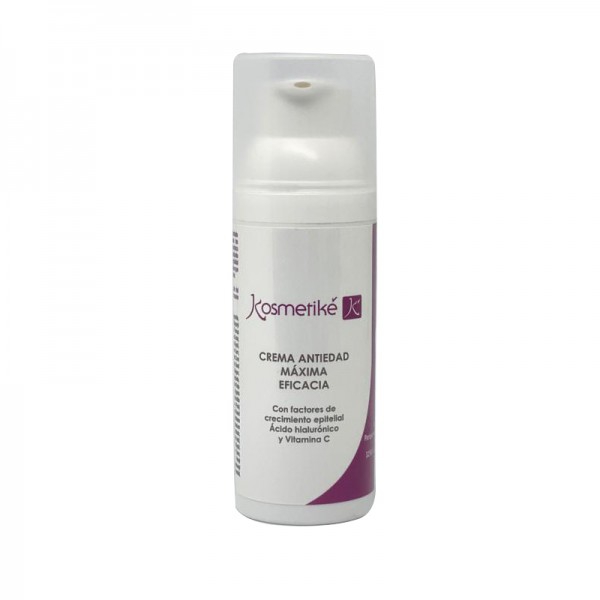 -55% off
8,95€
Including VAT
(7,40€ without VAT)
before 19,95€
Product in stock. Immediate shipping
* The shipping costs are calculated in the shopping basket
Description
Anti-wrinkle cream with proven efficacy, made with Pure Hyaluronic Acid Serum, encapsulated Vitamin C that does not oxidize and Epithelial Growth Factors that stimulate cell regeneration, rejuvenating the skin in a spectacular way.
Highly proven anti-wrinkle cream for women. It fights the signs of aging, minimizes wrinkles, firms, hydrates and brightens the skin. Effective from the first applications. Made with pure hyaluronic acid serum, encapsulated vitamin C serum that does not oxidize and acts 100% on the skin and Epithelial Growth Factors (EFG) that regenerate and rejuvenate the skin in a spectacular way.
Strengths:
- Effective moisturizing cream from the first application , thanks to the excellent combination of active ingredients, among which the pure hyaluronic acid serum, the encapsulated vitamin C serum and the epithelial growth factors stand out . Together they create an unbeatable anti-aging cocktail.
- Do you know what is the fashion asset among celebrities? Epithelial growth factors , numerous efficacy tests support this ingredient, based on proteins bioidentical to those of blood plasma . Spectacular skin rejuvenation effect in a few days.

- Vitamin C of maximum efficiency for your skin, because it is encapsulated, thus ensuring that it remains intact and does not oxidize until it comes into contact with the skin at the time of application. Incredible antioxidant, revitalizing and illuminating effect for your skin.

- Pure hyaluronic acid serum with an anti-wrinkle effect, because it penetrates the skin, incorporating a large amount of water in its structure, thus giving rise to a "filling effect" of wrinkles from the inside.
- Try our anti-aging cream now and you will not regret it. Day by day you will feel how it works and you will notice your skin hydrated, firm, luminous, rejuvenated and without wrinkles.
Technical characteristics:
Assets:

- Epithelial growth factors (EFG): proteins of plant origin, bioidentical to those of blood plasma. Spectacular improvement in the appearance of the skin. Regenerating, revitalizing and stimulating effect on the synthesis of fibroblasts, which produce collagen in the skin.

- Low molecular weight hyaluronic that ensures high absorption by the skin. It incorporates a large amount of water in its structure, giving rise to a "filling effect" of wrinkles from the inside

- Encapsulated Vitamin C that reaches our skin in optimal condition , without oxidizing. It stimulates the synthesis of collagen and is an antioxidant. Fight against free radicals, responsible for aging. In sensitive skin, a very subtle itching sensation may be noticed due to the action of the vitamin. It does not matter and is the best proof of its effectiveness.

- Plant stem cells of great regenerative power. Anti-aging effect by slowing down aging and stimulating cell regeneration. In addition, they help repair the harmful effects of pollution and UV radiation.

- Other highly moisturizing active ingredients that keep the skin perfectly hydrated and protected: Panthenol or Provitamin B5, Sodium PCA, Urea, Aloe vera and Glycerin.

- Tightening effect , due to the Caesalpinia spinosa plant that gives rise to a 3D matrix, which exerts a mechanical tension that makes the skin smoother and smoother immediately.

- Firming hydrolyzed collagen , highly regenerating Allantoin and softening and soothing Chamomile, complete the selection of active ingredients.
Reviews
4,7
36 reviews

loading reviews...
Maria Victoria
Spain
04/09/2023
TERESA
Spain
31/08/2023
Ysis Yoselyn
Spain
22/08/2023
CAROLINA
Spain
21/08/2023
Larysa
Spain
19/08/2023
Concepción
Spain
24/07/2023
Pedro
Spain
24/07/2023
anonymous
Spain
16/07/2023
Patricia
Spain
03/07/2023
Maria Victoria
Spain
25/05/2023