Neuromuscular bandage Temtex blue color (5cm X 32m)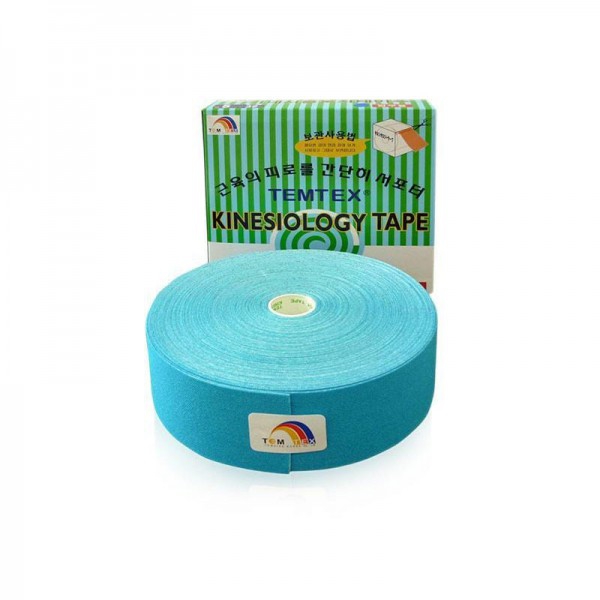 -13% off
42,00€
Including VAT
(38,18€ without VAT)
before 48,00€
Product in stock. Immediate shipping
* The shipping costs are calculated in the shopping basket
Reference: BKT-12
Description
Korean Kinesiology tape from the Temtex brand; It is a top quality bandage objectified by independent studies carried out by Aitex (Textile Research Institute, accredited by ENAC), guaranteeing its excellent characteristics in terms of base material, adhesiveness, elasticity and porosity.
Technical characteristics:
The Neuromuscular Bandage is a technique based on the use of a special bandage (TEMTEX Kinesiology Tape) that, placed in a specific way, manages to provide functional support to the muscles without limiting joint mobility , as well as unequivocal advantages derived from the increase in blood circulation and lymphatic , modifications at the level of cutaneous sensory receptors , as well as at the neuromuscular level.
The TEMTEX kinesiology tape is a kind of elastic tape that is glued directly to the skin; it is elastic in the longitudinal direction, while in the transverse direction it is rigid and the level of elasticity as demanded by the best world specialists is between 150% and 160%.
Their composition is based on cotton , they are latex-free and have a glue that allows them to adhere to the skin; the glue used is Cyanoacrylate for medical use . Once placed on the skin, it does not come off due to sweat and they easily withstand immersion in water (so you can get wet, or take a shower, ...).
The combination of TEMTEX Kinesiology Tape and its proper placement will bring with it:

- Normalization of muscle function.
- Decrease in inflammation.
- Decrease in pain.
- Better joint support.
NOTE : Article and informative study on the " A plication of the Temtex neuromuscular bandage in pregnant women with low back pain ", click here to see it.
Attached files
Reviews
4,7
11 reviews

loading reviews...
Nuria
Spain
09/01/2023
David
France
07/06/2022
Jutta
Germany
10/03/2022
anonymous
France
20/10/2020
anonymous
Spain
06/08/2020
anonymous
Spain
08/08/2019
anonymous
Spain
04/01/2019
anonymous
Spain
17/07/2018
anonymous
Spain
08/11/2017
anonymous
Spain
19/10/2017