OMRON M7 Intelli IT 2020 upper arm blood pressure monitor: With smart cuff, bluetooth and the Omron Connect app
89,95€
Including VAT
(74,34€ without VAT)
Product in stock. Immediate shipping
* The shipping costs are calculated in the shopping basket
Reference: HEM-7361T-EBK
Description
Get the same precision as in the doctor's office with the Omron M7 Intelli IT blood pressure meter
Omron M7 Intelli IT is the most advanced device of the Omron brand. A device that is characterized by its pinpoint efficiency and incorporates the latest innovations in precision: the Intelli Wrap cuff , while incorporating Omron connect, the first application for smartphones.
Strengths:
- Intelli Wrap Cuff with 360° Reliability : OMRON's Intelli Wrap Cuff provides accurate readings in any position on the upper arm.
- Omron Connect app for iPhone/Android mobile: store and track measurements on your smartphone.
- Atrial fibrillation detection (AFIB)
- Validated for use in diabetics or during pregnancy: Successfully validated in pregnant women, with and without preeclampsia, and in diabetics².
- No more guesswork: Your comprehensive guide to cuff placement helps you determine if the cuff is placed correctly, not too loose or too tight.
- No more discomfort with Intellisense technology: Thanks to Intellisense technology, the monitor automatically inflates the cuff to the ideal volume for your body.
Technical characteristics:
- Intelli Wrap cuff; 360° precision1: exact measurements in any position around the upper arm (cuff size: 22 to 42 cm)

-OMRON connect; take control of your health: mobile app for iPhone/Android™

- Simple color blood pressure indicator: indicates if the result is above the recommended level

- Monitoring of morning hypertension: indicates if the morning average is above the recommended level

- Advanced average values function: weekly morning and evening average values

- Arrhythmic heartbeat detection

- Cuff Fit Guide: Indicates if the cuff is fitted correctly on the arm; neither too loose nor too tight

- Make measurements accurately

- Memory: 2 users x 100 readings

- Body movement detection

- Clinically validated
Omron Connect app:
Smartphone app that connects to OMRON Bluetooth-enabled smart devices and provides easy viewing of device measurements, history graphs, and averages.
Makes it easy to view, save, and share your health data with other apps, like Apple Health.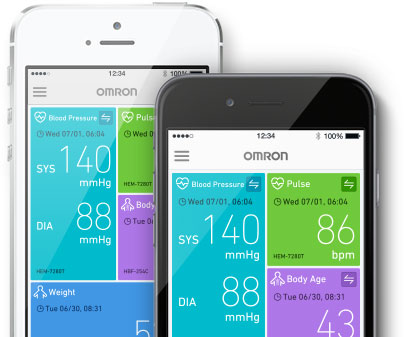 Basic endowment:
The Omron M7 Intelli IT blood pressure monitor includes the following components inside each box:
- Display
- sleeve
- Manual
- Protective case
- Battery set
- Tension record sheet
- Setup Instructions
(Power adapter not included)
Warranty:
This product is made with quality materials and its manufacture has been carried out with total scrupulousness. It is designed to be used in any situation, assuming it is handled correctly and maintained properly as described in the instruction manual.
Omron offers a 3-year warranty from the date of purchase. Omron warrants the proper workmanship, workmanship and materials of this product. During this warranty period, and without charge for labor or parts, Omron will repair or exchange the defective product or any defective part.
Attached files
Spare parts and accessories for this product
Omron Intelli Wrap Cuff: Ensures more accurate measurements (measurement: 22 - 42 cm) Reference: HEM-FL31
24,80 €
Product in stock. Immediate shipping
Reviews
4,8
31 reviews

loading reviews...
Francisco
Spain
10/03/2023
Epifanio
Spain
17/05/2022
Benigno
Portugal
10/05/2022
anonymous
Spain
23/03/2022
anonymous
Portugal
19/10/2021
anonymous
Spain
19/10/2021
anonymous
Portugal
19/10/2021
anonymous
Portugal
08/10/2021
anonymous
Spain
22/09/2021
anonymous
Spain
14/09/2021