Oncological face cream SPF 50 Oncosmetics multi-action 50 ml: Moisturizing, regenerating, anti-aging day cream with high sun protection (SPF 50) and a soft touch of color. Facial care during chemotherapy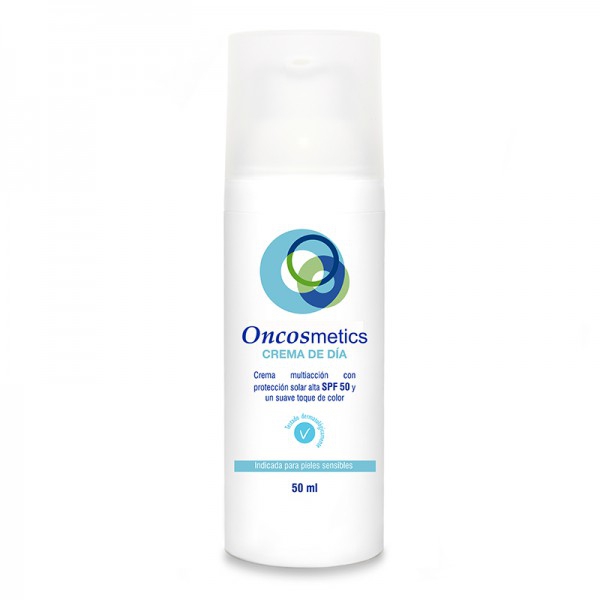 29,95€
Including VAT
(24,75€ without VAT)
Product in stock. Immediate shipping
* The shipping costs are calculated in the shopping basket
Description
Promotion
Multi-action cream for people undergoing cancer treatment with SPF 50.
SPECIAL OFFER




BUY 5 GET ONE

FREE
The Multiaction Day Cream with Sun Protection Factor 50 from Oncosmetics brings together all the necessary properties to improve the appearance, care for and protect the skin of cancer patients when they need it most, since it is specially formulated to be especially effective during radiotherapy and chemotherapy processes. .
It is a face cream with a light and pleasant texture, ideal to apply as a single product for optimal care of the most sensitive skin . In addition to high sun protection (SPF 50) , which is essential for patients undergoing most cancer treatments, this product has a moisturizing, regenerating, and repairing action. Likewise, anti-aging active ingredients have also been incorporated, a slight tightening effect and it also gives rise to a soft tone thanks to its microencapsulated pigments that are released in contact with the skin.
The Oncosmetics Multi-Action Day Cream has been tested by numerous professionals and cancer patients. Thus, like the entire Oncosmetics line, the Day Cream has passed the Sensitive Skin Tolerance Test of the Anmar Clinical Services SL Laboratory (Pamplona, ​​Navarra) and the evaluation of its moisturizing capacity by the Technological Research Center (CIT) of the University of La Coruña , which also certifies its ability to produce the "barrier effect" and its retention power on the skin.

​Benefits of Oncosmetics SPF 50 Facial Cream:
multiaction
Color : Contains microencapsulated pigments, which give uniformity to the color of the skin.
Sun protection (SPF 50) : Protection against UVA and UVB rays.
Hydration : Contains glycerin, betaine and Aloe vera. Components that help the skin maintain its optimal level of hydration.
Regeneration : Rosehip and allantoin contribute to cell regeneration and the elimination of sun spots.

anti-aging
- Anti- wrinkle : Hyaluronic acid provides a "filling effect" of wrinkles, and promotes skin hydration.
- Antioxidant : Rosehip oil acts as an antioxidant.
- Immediate tightening effect : Lifting action of plant extract that tightens the skin and at the same time acts as a long-term anti-aging treatment.
skin relief
It contains a highly effective hexapeptide, which, together with plant extracts such as chamomile and calendula, relieves the itchy sensation of the skin.

Strengths of the Oncosmetics Cosmetics line:

Indications:
- Sun protection / Extreme dryness / Roughness / Roughness / Itching.

- Sensitive and atopic skin

Active ingredients:
- Contains glycerin, betaine and Aloe vera. Components that help the skin maintain its optimal level of hydration.

- Hyaluronic acid provides a "filling effect" of wrinkles, and promotes skin hydration.

- Rosehip and allantoin contribute to cell regeneration and help minimize the appearance of blemishes.

- Allantoin: Regenerative and repairing effect. Especially indicated for extremely sensitive and dry skin.

- Plant stem cells: They slow down the aging process and stimulate cell regeneration of skin tissue.

- Rosehip oil: Excellent properties as a cell regenerator.
- High-efficacy hexapeptide for skin relief: Innovative hexapeptide that acts effectively providing relief from uncomfortable sensations, such as redness and itching, typical of sensitive and especially dry skin, while helping it to regain its balance physiological and tolerance level.

- Frankincense Extract: Provides an effect that favors the relief of itchy skin or a sensation of irritation or sensitivity.

Take care of your skin, choose Oncosmetics:

​
- We are the reference brand in specific cosmetics for cancer patients , we approach the disease naturally, without taboos, we want patients to feel identified with us. We understand your needs and offer you the best solutions.
- A cosmetic offers us the possibility of taking care of ourselves, of seeing ourselves and feeling better, of enjoying the sensations that it provokes in our skin, its texture,... It provides us with a moment of well-being.
-Oncosmetics wants to convey these sensations to those people who are going through the hard process of cancer treatment, with all that this entails for their skin .
- We offer a line of products, specially designed and formulated to care for the skin of people undergoing cancer treatment , with their specific needs at that time, but also providing everything that a high-end cosmetic brand can offer.
- When a person is subjected to chemotherapy or radiotherapy treatments, it is very common for alterations to occur in the skin as a consequence, such as dryness, dehydration, irritation, itching, appearance of spots, greater sensitivity , roughness, etc...
- This implies that you cannot use products that contain ingredients that, in normal skin, would not have a problem, but in this situation would be irritating.
- The fundamental pillars of Oncosmetics products are, as general criteria for the entire line:
- Active ingredients with great moisturizing and regenerating power.
- Calming action active ingredients ideal for the most sensitive skin.
- High nutrition.
- Fragrance-free.
- Without parabens, phenoxyethanol, Imidazolidinyl urea, Kathon.
- No paraffins, silicones, ethyl alcohol, isopropyl alcohol or any other component that can irritate the skin.
- Sun protection in the multi-action facial cream.
- But we want to go one step further, our idea is, in addition to satisfying the main needs of the skin , the possibility of ensuring that in addition to being perfectly cared for, it is also prettier from the first moment. For this we formulate each product from a dermatological point of view and also from a more aesthetic point of view.
Attached files
Reviews
5
6 reviews