Oncosmetics oncological oil Intensive repair delicate areas 30mL: Intense oil for the care of particularly damaged and dry areas (elbows, hands, feet, nails) during oncological treatments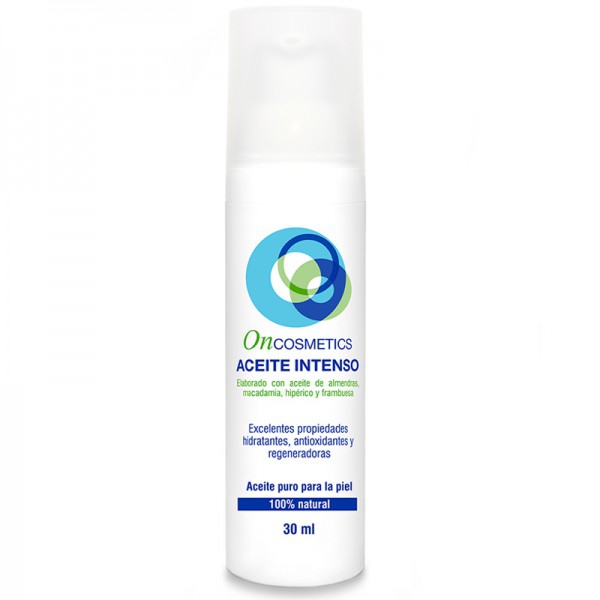 22,50€
Including VAT
(18,60€ without VAT)
Product in stock. Immediate shipping
* The shipping costs are calculated in the shopping basket
Description
Promotion
Oncosmetics Intense Oil promotes immediate recovery in irritated skin
Oncosmetics Intense Oil is formulated with a careful combination of vegetable oils that recover, regenerate and maintain the skin of cancer patients in the most optimal conditions when they need it most, since it is specially designed to pamper the especially dry areas of patients during treatments. of chemotherapy and radiotherapy.
It is an intensive repair serum based on vegetable oils such as almond oil, raspberry oil, hypericum oil and polyoxygenated fatty acids that have a great repairing, antioxidant and regenerating power for the skin of cancer patients.
Oncosmetics Intense Oil offers multiple solutions for damaged skin as it is ideal for applying to particularly dry or damaged areas such as nails, elbows, and can also be used as a repairer in other areas of the body that require a higher degree of emollient or hydration.
Oncosmetics Intense Oil has been tested by numerous professionals and cancer patients. Thus, like the entire Oncosmetics line, the Intense Oil has passed the Sensitive Skin Tolerance Test of the Anmar Clinical Services SL Laboratory (Pamplona, ​​Navarra) and the evaluation of its moisturizing capacity by the Technological Research Center (CIT) of the University of La Coruña, which also certifies its ability to produce the "barrier effect" and its retention power on the skin.
Benefits of Oncosmetics Intense Oil:
- Emollient and softening.
- Promotes natural cell regeneration , stimulating the production of collagen and elastin.
- Antioxidant effect , due to its high content of Vitamins A and E, which combat the effects of free radicals.
- Moisturizing : it has the ability to restore the normal level of moisture in the skin.
- Immediate soothing, decongestant, softening action.
- Anti- inflammatory activity.
- Antipruritic action.
- Healing.
- Anti erythematous activity.
Strong Points Cosmetic Line Oncosmetics

indications:
- Nails/lips/hands/feet/Extreme dryness

- Sensitive and atopic skin / Roughness / Roughness
Active ingredients:
- Almond Oil: Provides emollience, softness and hydration for all skin types, favors cell regeneration, and acts as an antioxidant effect with a high content of vitamins A and E. Its fatty acid content favors the restoration of the oily phase of the skin. hydrolipidic barrier that protects the skin naturally, so that the skin will be more hydrated, protected and elastic.

- Raspberry Oil: Contains great antioxidant power to combat the effects of free radicals. Its content of fatty acids and vitamins, make it favor a greater degree of nutrition of the skin and also a better hydration, favoring the retention of the water naturally contained in it. In addition, it helps reduce the sensation of irritation and itching derived from dryness.

- Macerated oil of Hypericum: This ingredient, thanks to its composition of fatty acids, helps maintain the skin at its optimal degree of hydration, in addition to presenting excellent properties that favor the natural regeneration process of the skin.

- Polyoxygenated fatty acids: Great regenerating action, they favor the immediate recovery of the most damaged skin.

Take care of your skin, choose Oncosmetics:

​
- We are the reference brand in specific cosmetics for cancer patients , we approach the disease naturally, without taboos, we want patients to feel identified with us. We understand your needs and offer you the best solutions.
- A cosmetic offers us the possibility of taking care of ourselves, of seeing ourselves and feeling better, of enjoying the sensations that it provokes in our skin, its texture,... It provides us with a moment of well-being.
-Oncosmetics wants to convey these sensations to those people who are going through the hard process of cancer treatment, with all that this entails for their skin .
- We offer a line of products, specially designed and formulated to care for the skin of people undergoing cancer treatment , with their specific needs at that time, but also providing everything that a high-end cosmetic brand can offer.
- When a person is subjected to chemotherapy or radiotherapy treatments, it is very common for alterations to occur in the skin as a consequence, such as dryness, dehydration, irritation, itching, appearance of spots, increased sensitivity , roughness, etc...
- This implies that you cannot use products that contain ingredients that, in normal skin, would not have a problem, but in this situation would be irritating.
- The fundamental pillars of Oncosmetics products are, as general criteria for the entire line:
- Active ingredients with great moisturizing and regenerating power.
- Calming action active ingredients ideal for the most sensitive skin.
- High nutrition.
- Fragrance-free.
- Without parabens, phenoxyethanol, Imidazolidinyl urea, Kathon.
- No paraffins, silicones, ethyl alcohol, isopropyl alcohol or any other component that can irritate the skin.
- Sun protection in the multi-action facial cream.
- But we want to go one step further, our idea is, in addition to satisfying the main needs of the skin , the possibility of ensuring that in addition to being perfectly cared for, it is also prettier from the first moment. For this we formulate each product from a dermatological point of view and also from a more aesthetic point of view.
Attached files
Reviews