Physiotherapy needles for dry needling Agu-punt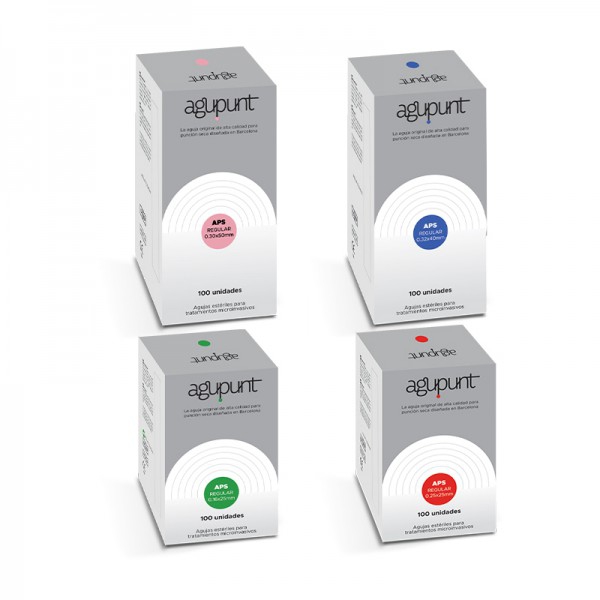 9,62€
Including VAT
(7,95€ without VAT)
* The shipping costs are calculated in the shopping basket
Available options
Description
AguPunt physiotherapy needles specially designed for dry needling treatments . It is a range of needles of the highest quality that facilitate the work of professionals. They are needles without pain for a greater benefit of the patient, using oil for medical use.
In addition, these new APS® needles have been specially created in collaboration with the most prestigious professors and physiotherapists in the field of Dry Needling and pain treatment.
- Safe
- durable
- Straight to the point
- With color catch for quick identification
Strengths
​- Conical tip to avoid damaging the needle
- Triple lubrication and polishing minimizes pain and unnecessary tissue damage
- Handle without head
- Optimum flexibility
Technical characteristics:
- Needles designed for dry needling, with the collaboration of Professor Orlando Mayoral.
- They have a thicker handle, thanks to its steel composition, achieving better control.
- Headless needle with guide tube for greater precision.
- Made with 17-4 high strength surgical steel which allows us to create a finer and sharper point needle
- With a molybdenum composition of 2% instead of 0.8%, a greater sharpening resistance is achieved for multiple inserts
- Triple polished and three layers of oil to facilitate the introduction
- Individual paper packaging.
- Tianxi-Hwato quality
- CE0197
- Boxes of 100 units
Available sizes:
- 0.16x25
- 0.25x13
- 0.25x25
- 0.25x40
- 0.30x40
- 0.32x40
- 0.30x50
- 0.30x60
- 0.30x75
- 0.30x100
Attached files
Reviews
4,7
198 reviews

loading reviews...
Club Esportiu
Spain
23/08/2023
Marta
Spain
23/08/2023
Veronica
Spain
03/08/2023
anonymous
Spain
27/06/2023
anonymous
Spain
18/06/2023
PATRICIA
Spain
10/05/2023
Jose Antonio
Spain
07/05/2023
Nagore
Spain
27/03/2023
Patricia
Spain
14/03/2023
Oscar
Spain
10/02/2023