Povidone Iodine- Desinpov 125 ml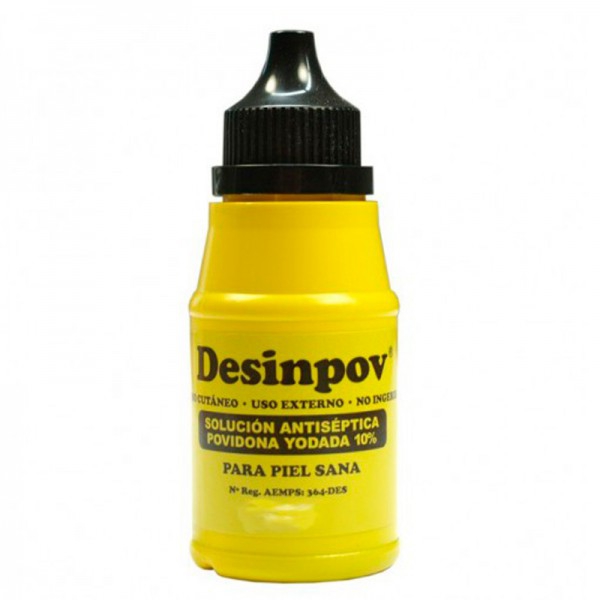 2,69€
Including VAT
(2,45€ without VAT)
Product in stock. Immediate shipping
* The shipping costs are calculated in the shopping basket
Reference: 10
Description
Disinfectant for healthy skin. 10% povidone iodine antiseptic solution for preparatory skin disinfection. Not irritating.
How to use

Povidone Iodine- Desinpov 125 ml:
Apply to healthy, clean and dry skin. After washing and drying, apply directly until the area of the skin to be disinfected is well moistened. Leave in contact for 1-3 minutes. Do not use on people sensitive to its components, or on large areas of the skin, or for a long time. Do not use in neonates, or in women in the perinatal period, or during the lactation period. Do not mix with other products. It should not be used together with mercury preparations. Organic matter decreases its effectiveness.
Povidone Iodine Warnings- Desinpov 125 ml:
Slight eye irritant. Avoid contact with eyes, mucous membranes and sensitive skin areas. In case of contact with the eyes, wash immediately and abundantly with water. May cause hypersensitivity in contact with skin. Use with caution in children under 2 years of age. Keep away from children and away from food and drink. In case of poisoning or accidental ingestion, call the Medical Toxicological Information Service Telephone 91 562 04 20. In order to avoid risks to people and the environment, follow the instructions for use
Composition:
Polyvinylpyrrolidone-iodine 10%.
Reviews
4,8
13 reviews

loading reviews...
anonymous
Spain
06/08/2021
anonymous
Spain
09/03/2021
anonymous
Spain
06/10/2020
anonymous
Spain
30/07/2020
anonymous
Spain
30/07/2020
anonymous
Spain
05/05/2020
anonymous
Spain
17/02/2020
anonymous
Portugal
20/09/2019
anonymous
Spain
24/10/2018
anonymous
Spain
10/01/2018