Povidone iodine Yodinco 500 ml: Ideal for pre-surgical and pre-operative disinfection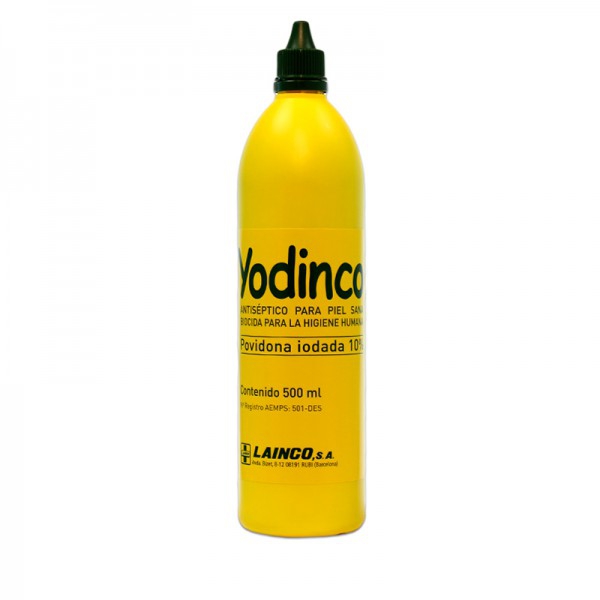 5,45€
Including VAT
(4,95€ without VAT)
Product in stock. Immediate shipping
* The shipping costs are calculated in the shopping basket
Reference: AEMPS 501-DES
Description
Povidone iodine Yodinco 500 ml has emerged in recent years as the drug of choice for wound disinfection , given its antiseptic power and that it does not destroy the cells responsible for healing the wound.
Its handling is relatively safe and does not cause undesirable effects , such as the resentment so typical of alcohol. Yodinco is a cheap and safe povidone-iodine based product that should not be missing in any medicine cabinet.
Technical characteristics:
- Container: 500 ml
- Application: Pre-surgical disinfection of the skin.
- Active component : Povidone Iodine.Glycerol.Polyoxyethylene alkyl ether.Disodium phosphate.Citric Acid.Sodium Hydroxide and purified water.
- How to use: Apply using a dressing on clean and healthy skin for 2 to 3 minutes. Do not rinse with mercury derivatives.
Reviews
4,9
9 reviews

loading reviews...
Miguel Angel
Spain
12/12/2022
anonymous
France
28/04/2022
anonymous
Spain
09/08/2021
anonymous
Spain
19/02/2021
anonymous
Spain
29/06/2020
anonymous
Spain
03/06/2020
anonymous
Spain
14/04/2020
anonymous
Spain
28/08/2019
anonymous
Spain
30/07/2018