Pulmo-gain exerciser, pulmonary incentivator: ideal for respiratory rehabilitation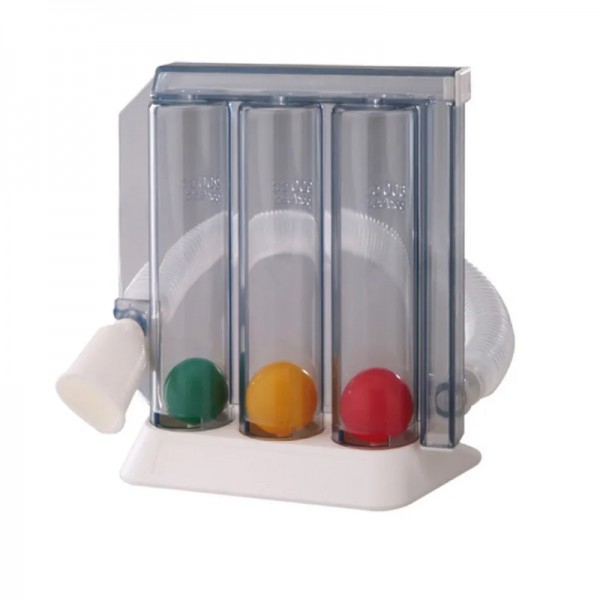 -4% off
6,05€
Including VAT
(5,00€ without VAT)
before 6,30€
Product in stock. Immediate shipping
* The shipping costs are calculated in the shopping basket
Reference: PRF-RE400110
Description
The Pulmo-gain lung exerciser or incentivator is a device with three transparent chambers made of copolymer and non-toxic polystyrene (each chamber corresponds to an inspiration level: 600, 900 and 1200 cc / sec)
Strengths:
- Each chamber corresponds to a different inspiration capacity
- Strengthens inspiring muscles
Technical characteristics:


- Non-toxic polypropylene base.

- 3 non-toxic polypropylene balls.

- Tube with mouth piece in non-toxic polypropylene.
- Completely removable for easy cleaning
- For respiratory rehabilitation.
- Material: resistant PVC
Utilization:
- Using the mouthpiece, lift the balls by inspiration from the three chambers (as much as possible).

- Maintain inspiration as much as possible.

- Breathe out leaving the mouthpiece.

- Repeat several times.
Reviews
4,3
27 reviews

loading reviews...
MARC
France
30/11/2023
Maitane
Spain
04/09/2023
Pedro
Spain
25/05/2023
Alexandre Filipe
Portugal
28/01/2023
anonymous
Portugal
22/04/2021
anonymous
Portugal
15/04/2021
anonymous
Spain
05/04/2021
anonymous
Portugal
17/02/2021
anonymous
Spain
09/02/2021
anonymous
Portugal
08/02/2021