Riester Minimus II aneroid sphygmomanometer black, adult velcro bracelet without latex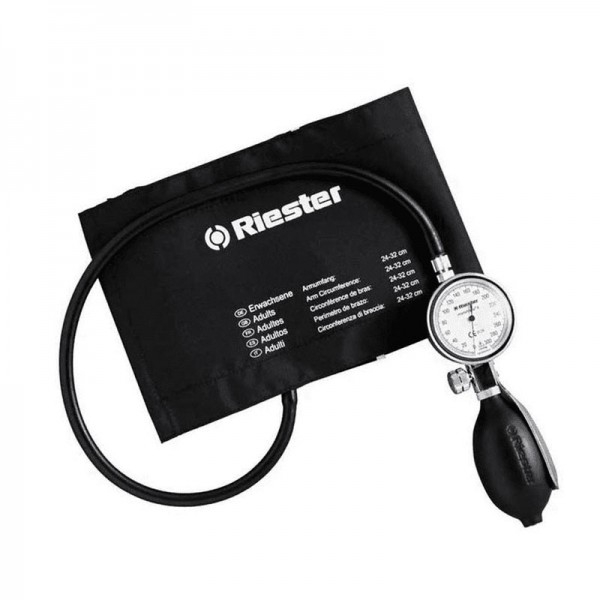 56,95€
Including VAT
(47,07€ without VAT)
Product with variable stock. Shipping according to availability.
* The shipping costs are calculated in the shopping basket
Reference: 1312LF
Description
Aneroid sphygmomanometer that is essential for the health sector. Compact, easy to use and with the highest quality.
Thanks to the screw connection of the tube located in the upper area and the ergonomic spoon handle, the minimus®II can be used at all times without obstacles.
The bracelet and the pear are manufactured FREE OF LATEX to prevent allergies of patients and health personnel.
Technical characteristics:
- 1-tube compact watch tensometer.
- Resistant shiny chromed metal housing, with metal ring, protected against corrosion.
- Pear without latex with chrome purge valve.
- Metal valve base.
- Precision purge valve, with fine adjustment and no wear.
- Microfilter to protect the air purge valve and the measuring system.
- Stainless steel spoon handle.
- Special hardened copper-beryllium membrane, practically does not age.
- Metal connector for quick and easy exchange of bracelets.
- Membrane resistant to overpressures of up to 600 mm Hg.
- Maximum error tolerance +/- 3 mm Hg.
- Linear aluminum scale Ø 49 mm, perfectly readable up to 300 mm Hg.
- Includes zippered vinyl bag.
- Wide selection of different sizes and versions of bracelet.
- Adult bracelet without latex
Presentation
:
- Aneroid sphygmomanometer
- Zippered vinyl bag.
Warranty:
- 2 years
Attached files
Spare parts and accessories for this product
Reviews