Syndet Dermatological Soap Green Tea & Ginkgo 2 in 1: Hands and Body (1 liter)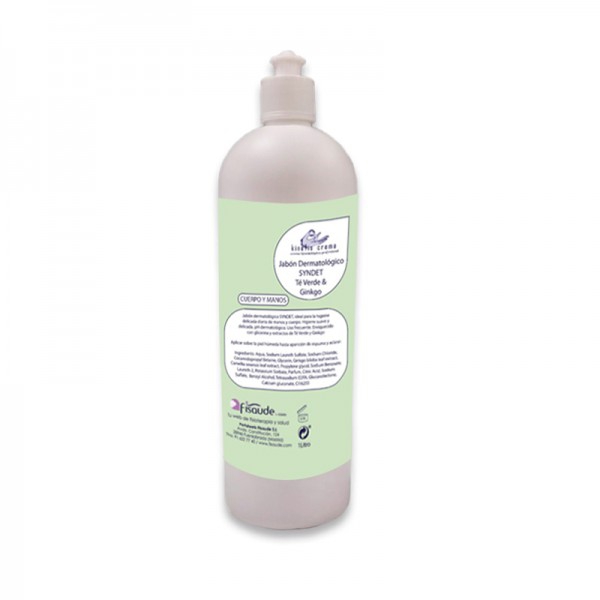 -55% off
1,75€
Including VAT
(1,45€ without VAT)
before 3,85€
Product in stock. Immediate shipping
* The shipping costs are calculated in the shopping basket
Description
DERMATOLOGICAL SYNDET SOAP Green Tea & Ginkgo
2 in 1: hands and body

Dermatological syndet soap, ideal for delicate daily hygiene of hands and body.
Soap-free soap (syndet), which delicately and gently cleanses the skin of the hands and body, dermatological pH, respecting the skin's natural protective barrier.
Daily body washing requires ingredients that, in addition to guaranteeing good hygiene, respect the stability and delicacy of the skin . For this reason, SYNDET DERMATOLOGICAL SOAP Green Tea & Ginkgo for hands and body is so effective, since thanks to its delicate components it cleanses the skin without attacking it, respecting the physiological pH of the skin which reduces the loss of the natural protective lipid layer , thus helping to maintain an optimal level of hydration and care of it.
- HANDS : Delicate cleaning of the hands, in order to carry out effective and safe hygiene as many times as required, respecting the natural protection of the skin.
- BODY : Ideal for complete daily hygiene, ensuring effective cleaning, with a pleasant foam with a rich and pleasant aroma.
In addition, it is enriched with Glycerin , with a moisturizing action, which favors the skin's water balance and increases its hydration level. And it also contains two active ingredients such as green tea extract and Ginkgo biloba .
Strengths:
- Does not contain soap. Delicate cleansing of the skin.
- Ideal for daily hygiene of the body and hands.
- Physiological pH. Respects the natural pH of the skin.
- Enriched with Glycerin with moisturizing properties.
- Contains plant extracts of Green Tea and Gingo Biloba, with stimulating, antioxidant and repairing properties.
- Delicate and pleasant aroma.
- Without parabens
- Without silicones
- Without phenoxyethanol
- Without alcohol
How to use:
Apply the product on damp skin, massaging until foam appears and rinse with water.
Ingredients:
Aqua, Sodium Laureth Sulfate, Sodium Chloride, Cocamidopropyl Betaine, Glycerin, Ginkgo biloba leaf extract, Camellia sinensis leaf extract, Propylene glycol, Sodium Benzoate, Potassium Sorbate, Parfum, Citric Acid, , Benzyl Alcohol, Tetrasodium EDTA, Gluconolactone, Calcium gluconate, CI 16255.
Presentation:
- 1 liter bottle.
Reviews
4,7
46 reviews

loading reviews...
anonymous
Spain
18/05/2023
PIA
Spain
03/05/2023
anonymous
Spain
29/03/2023
anonymous
Spain
10/03/2023
POL
Spain
14/09/2022
jose
Spain
02/05/2022
José Manuel
Spain
23/04/2022
Encarna
Spain
21/01/2022
anonymous
Spain
24/11/2021
anonymous
Spain
12/11/2021