Ultrasound Gel Kinefis Ultrasón 5 Liters (bottle with dispenser) + 1 Ultrasound Gel Kinefis Ultrasón 1 Liter GIFT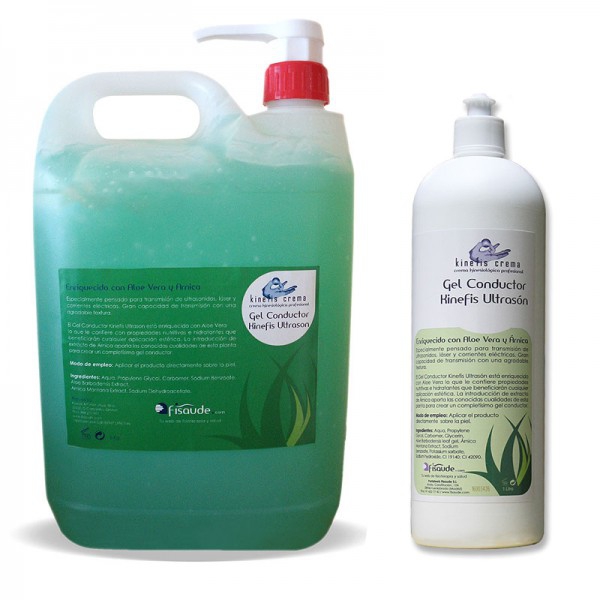 -12% off
14,95€
Including VAT
(12,36€ without VAT)
before 16,95€
Product in stock. Immediate shipping
* The shipping costs are calculated in the shopping basket
Reference: C1410008
Description
Promotion
Ultrasound Gel Kinefis Ultrason 5 Liter (bottle with dispenser) + 1 boat Ultrason Gel 1 litre GIFT
Kinefis Ultrasound Ultrasound Gel enriched with Arnica and Aloe Vera
Ideal conductive gel for ultrasound diagnosis and therapy, enriched with arnica and aloe vera to provide the well-known properties of these two products.
Strengths:
- It spreads easily and evenly.
- Without salt
- Does not irritate the skin
- Does not grease
- Water soluble
- Does not damage the transducer
Pack composition:
- 1 Rigid bottle with 5-liter dispenser of Ultrasound Gel Kinefis Ultrasón
- 1 Kinefis Ultrasound Ultrasound Gel 1 Liter
Reviews
4,7
52 reviews

loading reviews...
manuel
Spain
30/05/2023
DANIEL
Spain
04/04/2023
MARY
Spain
10/05/2022
anonymous
Spain
28/02/2022
anonymous
Spain
31/01/2022
anonymous
Spain
24/11/2021
anonymous
Spain
06/09/2021
anonymous
Spain
29/07/2021
anonymous
Spain
22/02/2020
anonymous
Spain
09/09/2019