Bucci aesthetic stretcher chair: Electric with three bodies and height adjustment, removable armrests and facial hole (Ref. WKE01 8.1.A26)
before 699,95€
price 545,00€


Offer -22%

[Including VAT]
* The shipping costs are calculated in the shopping basket
Description Bucci aesthetic stretcher chair: Electric with three bodies and height adjustment, removable armrests and facial hole (Ref. WKE01 8.1.A26)
The Bucci three-section aesthetic armchair has landed on the market to meet the wishes of all professionals in the field of aesthetics. And the Bucci model is much more than an aesthetic armchair since it combines characteristics typical of upper-middle-range armchairs but at a very low price.
Strengths:
- Bucci aesthetic armchair achieves that aesthetics and functionality go hand in hand as it has fine lines and characteristics typical of upper-middle-range aesthetic armchairs.
- The Bucci model is very versatile since we can convert the chair into a stretcher. Simply raising the footboard and lowering the backrest until you get a stretcher-like plane.
- We can regulate the height of the chair thanks to an electric motor that is operated with a hand control.
- Its minimum height is 57 cm for easy access by customers and its maximum height is 80 cm for the comfort of the professional.
- The Bucci model has removable armrests , an element that gives a plus in terms of functionality.
- The inclination of the backrest and the footrest are regulated by means of a gas piston to form a design that adapts to the needs of the professional.
- White upholstery in ultra-soft PVC of high density and easy to clean.
- The chair includes a face cap with a headrest cushion so that the patient can be as comfortable as possible.
Technical characteristics:
- Elevated in height by an electric motor from 57cm to the ground to 80cm to the ground.
- Removable armrests.
- Manual control to adjust the height and recline of the chair.
- Upholstered in white PVC , density 25kg / m2 and 5cm thick.
- Cushion with headrest included.
- Maximum weight 150kg
Adjustable elements of the Bucci aesthetic chair: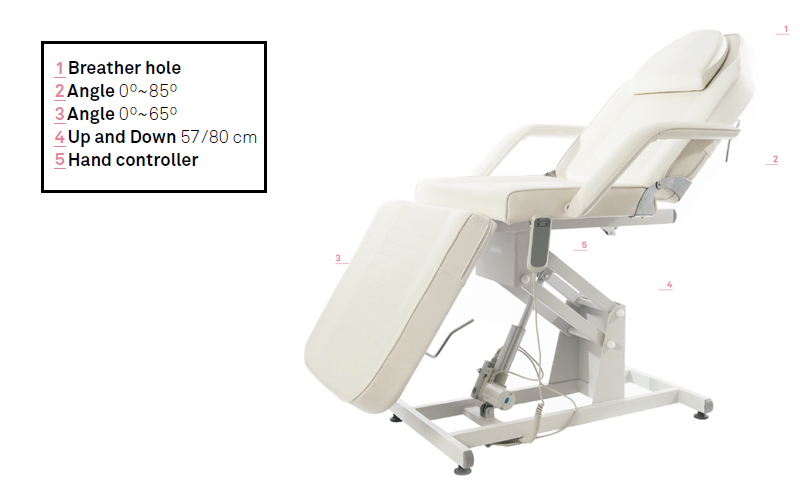 Measurements:
- Measurements without armrests: 184x62x57 / 80cm
- Measurements with armrests: 184x82x57 / 80 cm
- Weight: 57kg.

Warranty:
- 1 year
IMPORTANT!
The price includes shipping costs to the Peninsula. Following the current policy of the transport companies, the delivery will be made at the street door. If it is necessary to go up or down a floor, you should contact us to request a porter service from the transport company. This Service is an additional charge.